Learning English In-Person versus Online
In-Person and Online learning present different methods of learning, we've listed a general breakdown of Pros and Cons for both learning environments so you can decide if an online English tutor would be more effective for you!
In-Person
Pros

There is face-to-face instruction.
You are able to ask questions at the moment.
There is face-to-face interaction with classmates.
Networking is easier.

Cons

You must travel to campus (in the winter this may be particularly stressful).
Class is held at a specific time and you must attend.
You have to work at the speed of the class.
Online
Pros

You can attend class at any time of the day or night.

Video lessons make it easier to discuss with instructors directly
Classes personalized, "Personal" tutors are instructing you personally, tutors can also be natives
"Test/Trial" Sessions from platforms
Free Source Material online to assist your learning

Cons

It may be hard to express your thoughts, feelings or opinions in writing through emails.
Lesson material may be misunderstood
Very studying oriented- lessons are only part of the instruction.
How learning English online can benefit you in the future
Learning and brushing up on English isn't only geared towards non-native speakers, it can also assist native speakers in their goals of pursuing higher-level English. An online English tutor can assist you in preparing for the TOEFL exam and the IELTS exam but can even help you prepare for even the SAT! We've prepared resources for each of these exams and they can be found by clicking each of these links: TOEFL, IELTS, SAT.
Professional English has become more and more crucial when in a work environment. Sending emails, having work conferences, and establishing business deals all require a professional level of English and online English tutors online can help you work towards the end goal of communicating effectively. If you constantly develop your English, there's a chance you might be proficient enough to become an online English tutor yourself! Whether you're studying English to prepare for ESL exams or even for standardized exams as an assessment for college, an online English tutor is there to assist you in meeting your goals!
What is the general pricing of online English lessons?
The rate of each online English tutor is set based on their reviews, teaching skills, enrolled students, number of lessons given, and fluency. Online English tutors usually average within the range of $15 to $30 per lesson but can vary on each platform. For tutors that set their own rates, they attempt to price their lessons according to what they can provide to the students. Despite this, the pricing of lessons will always strictly depend on the platform you utilize. Platforms such as Cambly allow you to pay monthly for an allotted amount of lessons during the week.
Different online learning platforms have different rates for each of their tutors, but the most alluring deal that comes with learning English online is the opportunity you have to take trial lessons. Most language platforms now provide "trial" lessons with individual tutors of languages. Trial lessons are usually 30-minute lessons to introduce you to the tutor, how well you would understand the information, how lesson plans with that tutor would go, and how the language platform itself functions.
Best language platforms for finding English tutors
Cambly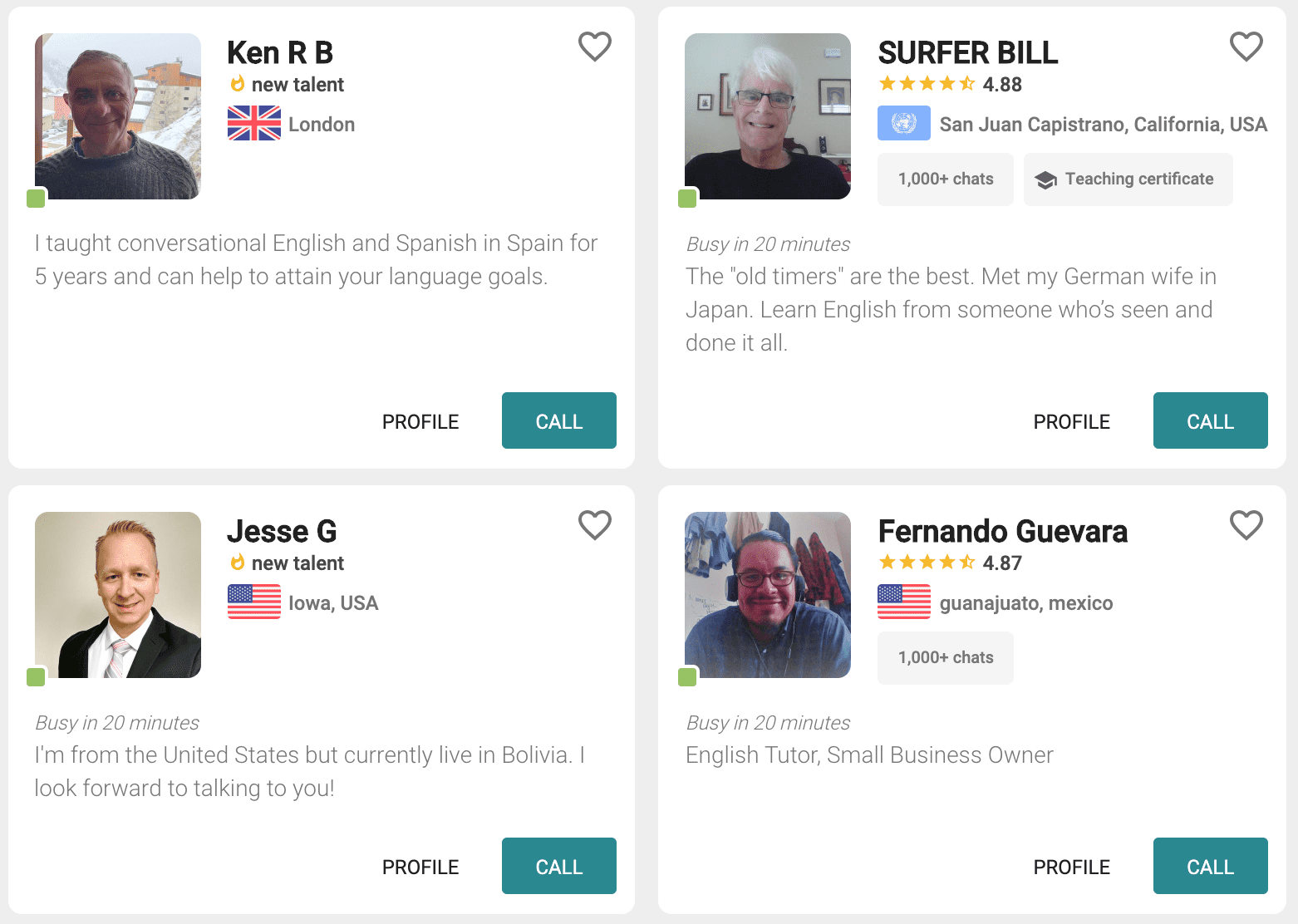 About: Cambly was founded in 2012 and provides on-demand access to tutors via video chat. Cambly tutors are all native English speakers from the United States, Canada, UK, and Australia, etc. The platform allows users to connect with a suitable tutor in under 5 seconds. Users can then practice English conversation, take an English course, or prepare for the IELTS, SAT, or TOEFL exams.
User Interface: Cambly provides an appealing mobile app that allows students to learn from the comfort of their smartphone. The information shown on each instructor's profiles includes their schedule, resume, rating, introduction, interests, specializations, languages they speak, education, teaching experience, and profession. The most interesting feature is the "call" function, which allows you to contact the tutor and have a conversation with them. Even though Cambly appears to be mobile-based, they also have a website with the same functions.
Price: Cambly differs in their pricing structure, instead of paying by lessons you pay a monthly fee which is determined based on how many lessons you want per week. A plan of 30 minutes per week 5 days a week can range from $85-$130 per month (Depending on if you pay monthly, quarterly, or yearly). While this can seem pricey at first, when how many lessons you actually receive is taken into account, it's an understandable price.
Overall Review: Cambly is a mobile-friendly language platform that is focused on providing comfortable lessons to non-native English speakers. Their app appears seamless and flawless, which will successfully help students find how to learn English efficiently. With all of their online English tutors being natives and their "call" function, learning English becomes next to no hassle. Cambly is an amazing option for anyone who's trying to learn English in an interactive and pleasant way.
2. Preply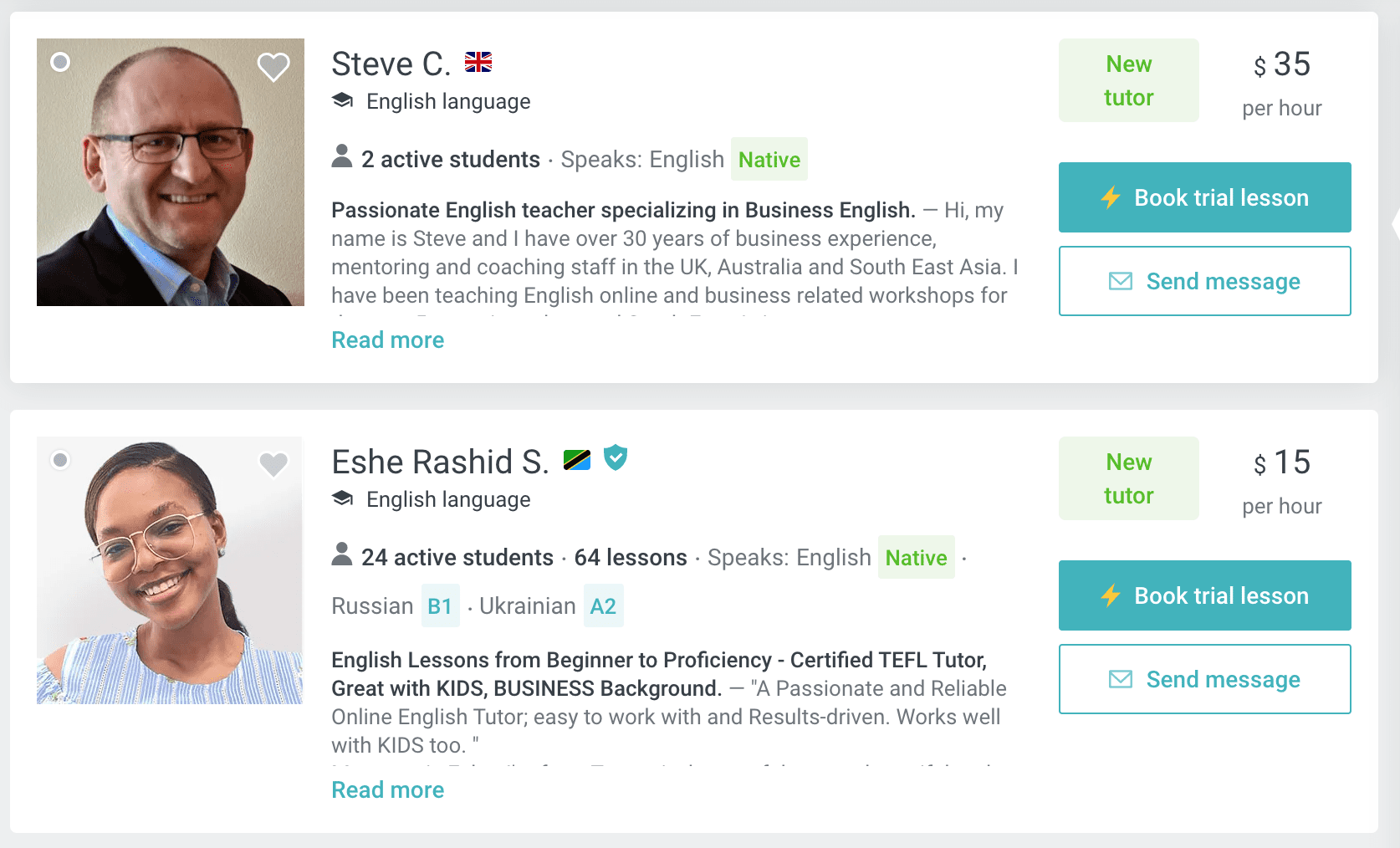 About: Preply was first launched in 2012 in Brighton, Massachusetts and is currently one of the largest online tutoring websites globally. It has approximately 47,000 registered tutors, offering help in as many as 27 different languages. While Preply primarily has a focus on language learning, it also offers courses and tutoring in subjects such as coding, accounting, and design. It contains a similar approach to other language platforms with the offering of trial lessons as well as the pay per lesson feature.
User Interface: Preply offers drop-down bars to provide more refined filters when looking for an online English tutor so that results are more based on your needs. The calendar of each tutor is simply understandable, booking a trial lesson is quick, and you even have the option of messaging the tutor themselves if you have any questions.
Price: Average price of $18 per English lesson
Overall Review: Preply shines with its large amount of information. Each tutor's page includes information about themselves and past experiences as well as a student attesting to their knowledge and lessons. Showing active students and how many lessons a tutor has taught allows for you to have a general idea of how effective they are in teaching. This site can be effective in assisting in students who have the goal in mind of bettering their English
3. AmazingTalker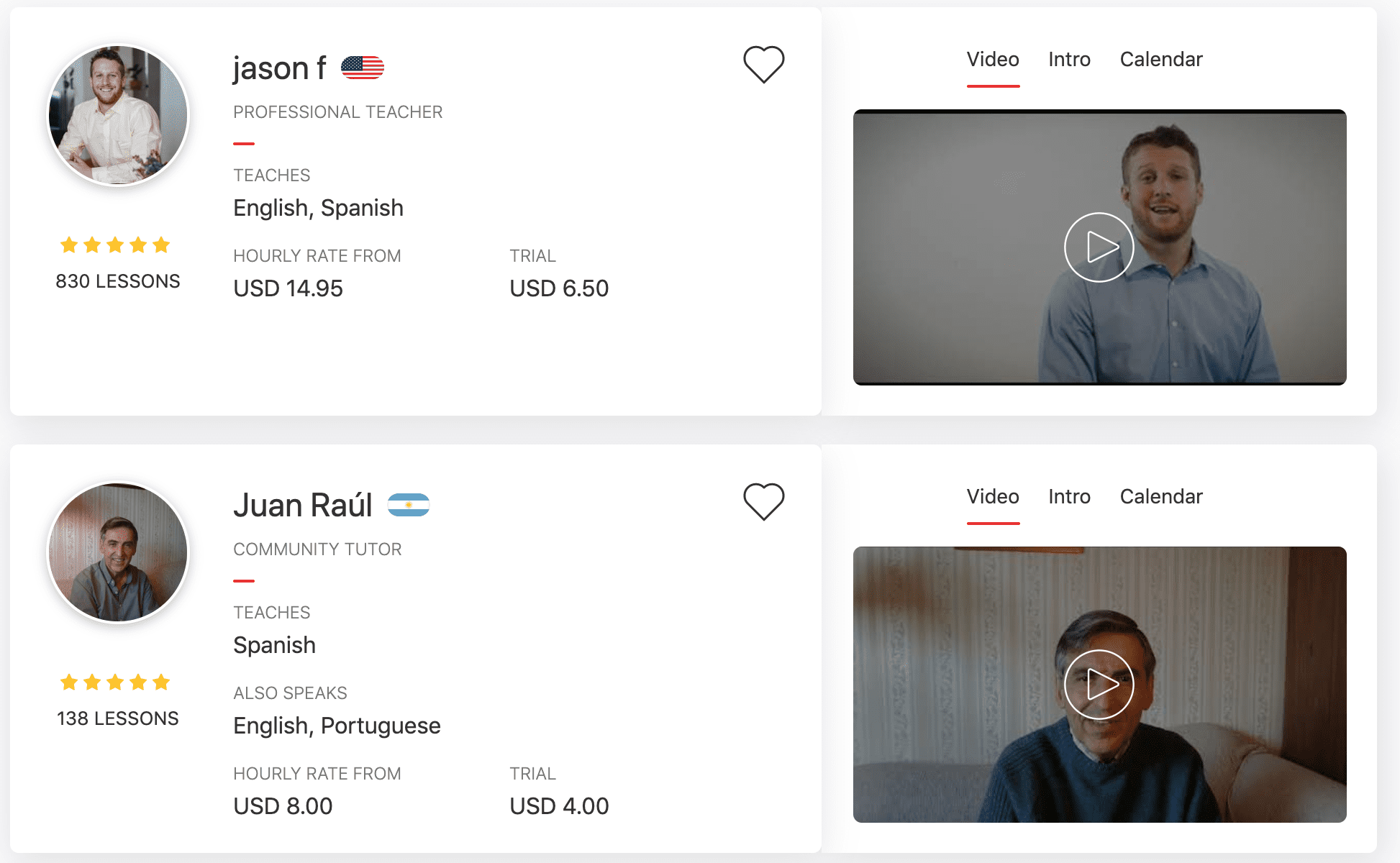 About: Only founded in 2016 in Taiwan, AmazingTalker is relatively new to the competitive language learning market. However, it has had rapid growth for the previous few years thanks to its website containing high-quality teachers, a rigorous review system and an AI recommendation function that accommodates the user. It currently boasts over 1,000 tutors and has helped teach more than 80,000 students.
User Interface: When first approaching AmazingTalker, I was first struck by their matching system, amount of filters and the filter process, and their ease of use. What really appeared to me that stood out was the quality of the teachers. AmazingTalker reviews every teacher application themselves to guarantee the quality of tutors and they ensure only a small percentage pass the screening. The end result of this process is a teaching community that upholds high standards and impressive learning results.
Price: Average price of $17 per English lesson
Overall Review: AmazingTalker has thoroughly analyzed how they could become the most successful language platform while simultaneously providing a fantastic user experience and an effective learning environment with and guidance to your perfect online English tutor. The information provided, easy pairing process, and competitive pricing AmazingTalker is storming the language platform competition with ease
4. Verbling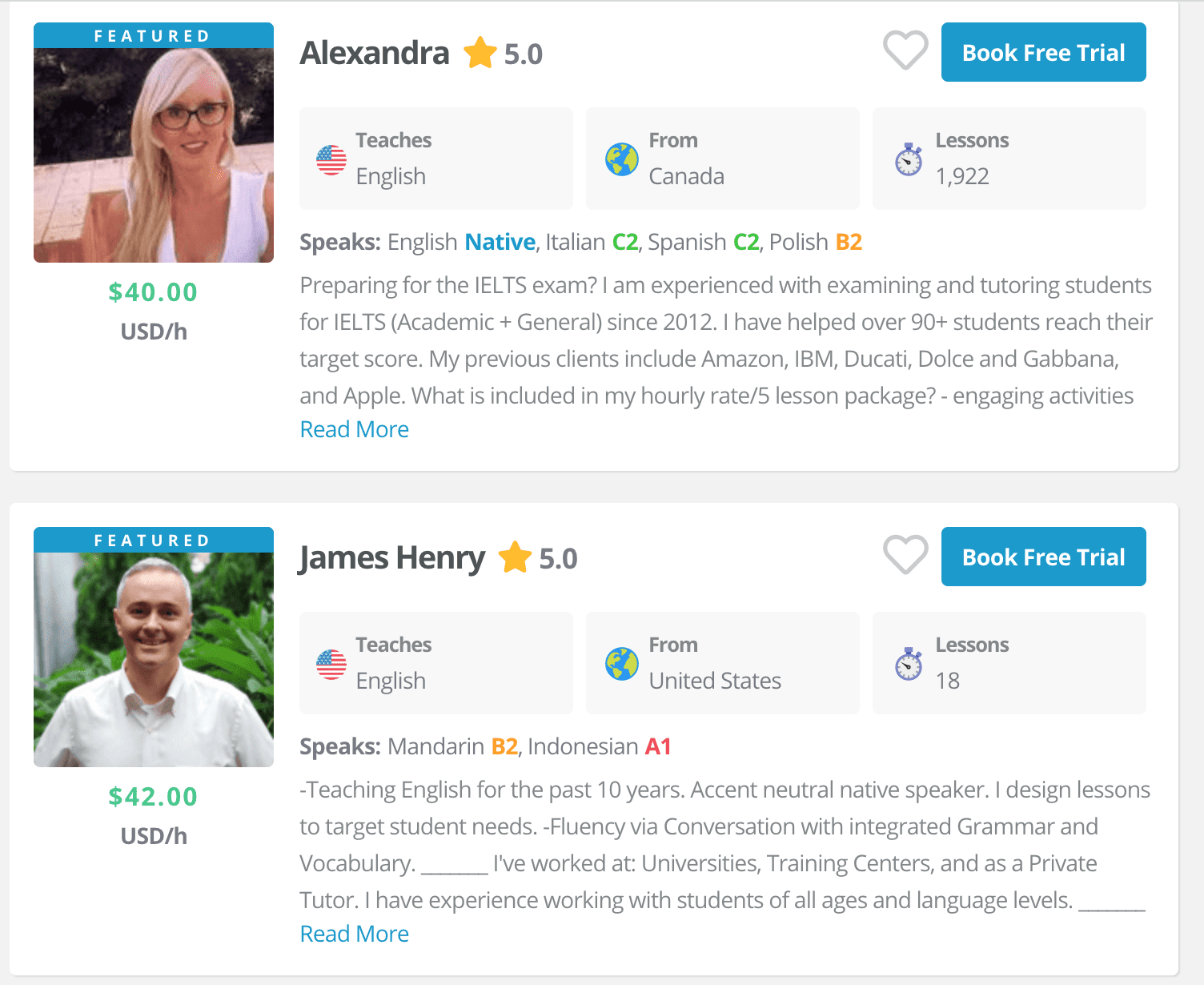 About: Verbling is a technology company founded by three Swedish former Stanford students. Their product launched for the first time during the Summer 2011 Y Combinator program. Today, Verbling has over 500,000 members. Their in-house staff vets every application from prospective teachers. Only those teachers who meet rigorous standards are accepted, ensuring high instruction quality for their learners
User Interface: Verbling has each tutor accompanied by a short introduction video where you have a first look at their teaching method, accent and what you can learn during a lesson. The tutor's page provides information such as numbers of lessons, students taught, response, timezone and time available, past experience and type of lessons being offered.
Price: Average price of $21 per English lesson
Overall Review: Verbling's design ensures a comfortable user experience. Very simple to use and navigate as well as being informational. Interesting community feature. Large amounts of tutors allow for more options when looking for a teacher. Prices are rather high but tutors are well-shown.
5. EnglishTutorOnline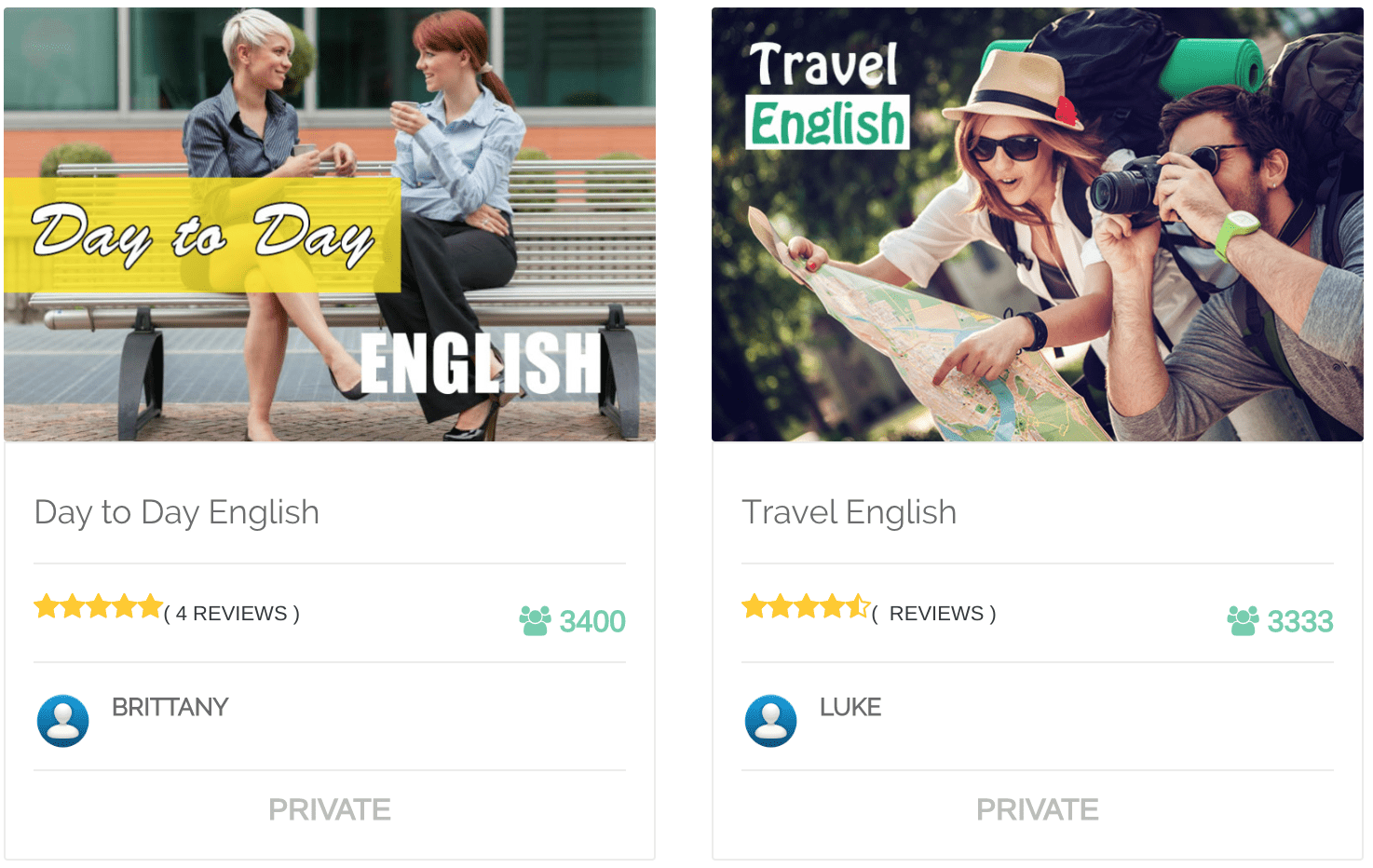 About: Founded in 2005, EnglishTutorOnline (ETO) is a pioneer in the online English teaching industry, teaching kids, adults & companies. They have headquarters in California, USA and Montreal, Canada, and a strong network of partners in Japan, and an online presence in over 30 countries.
User Interface: While ETO does have an advantage in focusing solely on English, its User Experience is outdated. Their website is time-consuming to navigate and it could be compared to a maze. Despite this, ETO provides plenty of information on each page to make up for their shortcoming.
Price: Average price of $30 per English lesson
Overall Review: EnglishTutorOnline has an interesting approach to learning English online and it appears effective with their high student retention rate. Their high prices are understandable because they've been focusing on English for 15 years, but their site is outdated and therefore that's why they didn't rank higher on this list.
How to make the most out of online English lessons
When spending both time and money on online English lessons, it's a given that you must make the most out of the lessons you get. Be sure to take advantage of all that's offered to you with your online lessons. Take advantage of the fact that these lessons are personal and utilize 1-on-1 conversations to increase grammar and conversational skills. Conversations are one of the most important factors when learning English. Don't be scared of asking your teacher questions, they're there for you to reach your goals.
One of the biggest perks of online English lessons is that you control and curate the content of your lessons. Make sure you plan lessons with your online English tutor, that way you can focus on the material that applies and appeals to you such as conversation. You're spending your time and money into online lessons so be sure you also have time in your schedule for studying.

Finding the right English tutor for you
While various language platforms make it easy for you to find the English teacher that matches you best, other sites may not have this feature. Despite this fact, it's important that you find an English teacher that fits you best. Each platform we went over provides plenty of information so that you can make your decision. Be sure you read each tutor's introductions, accompanying videos, and previous reviews. Doing this will assist you greatly in deciding which online English tutor will help learn English the best.
When selecting your tutor, make sure that your schedule fits with theirs. This will allow you to work with the tutor on a consistent schedule, effectively making learning Spanish a routine. As seen in Cambly, scheduling thirty minutes five times a week can help you become fluent as fast as possible. With so many options and features given to you, it's necessary for you to decide which tutor will help you succeed the most.

Frequently asked questions when looking for English tutors
Q: How do I become an English tutor online?
A: We've provided a guide to becoming an online English tutor!
Q: How much do online English lessons cost?
A: Online English tutors usually average within the range of $15 to $30 per lesson but can vary on each platform.
Q: How long does it take to learn English?
A: A year is the average amount of time it will take an adult to become fluent enough to work in English if they start out as a beginner and study at least 5 hours a day. However, time also depends on how often you study and your current level of English.
---
If you thought this post was helpful to you, please be sure to share it with your friends! It would support us and allow us to continue to make articles!

If you would like to share how you personally learned Spanish, please don't hesitate to leave a comment down below.