Why Hire a German Tutor?
There are a lot of ways to learn German. Thanks to technological advances, it is way easier to learn a second language like German via the internet nowadays. You can also find plenty of free online learning resources to save time and money. However, many people still prefer to learn German with native German tutors.
Here are some reasons for choosing a German tutor:
A private German tutor provides
A more organized system of learning
1 on 1 learning (don't have to share time with other students)
Culture experiences
Instant feedbacks
More flexible time for class
Customized lessons
German Tutor
Quick Links
German Tutor – Online German Tutors Pros & Cons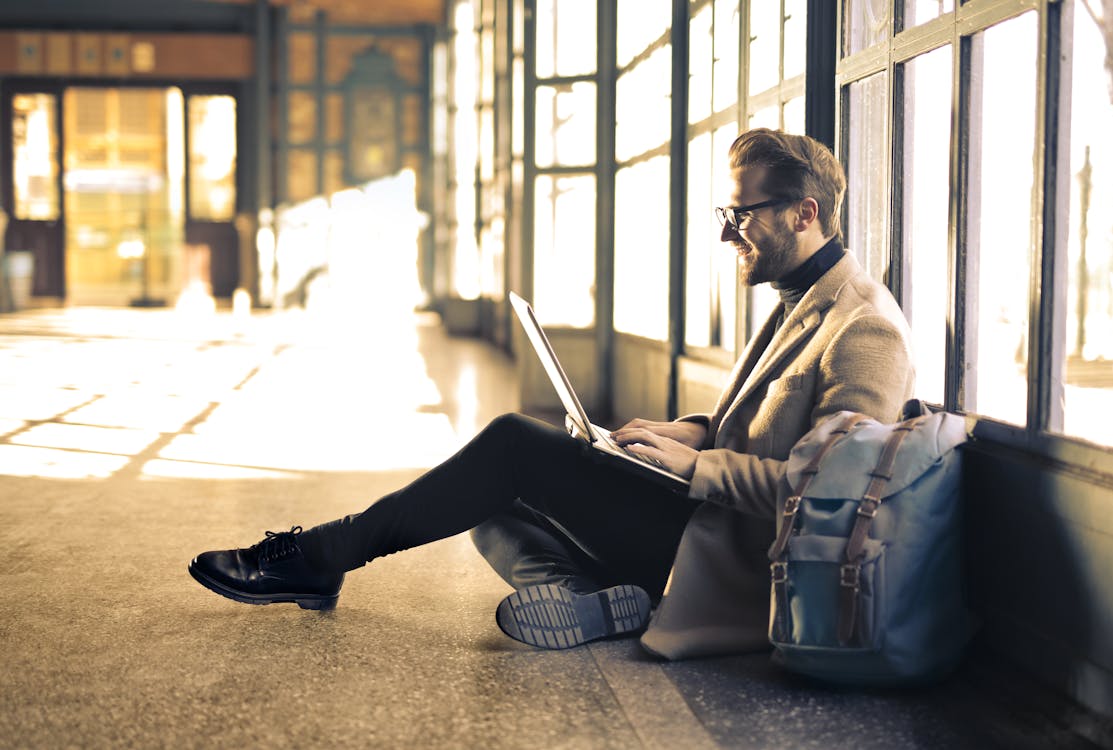 Pros
Time flexibility: With online German lessons you will have more time flexibility than an in-person tutor. You can choose when and where you want to take your lessons.
Price: It also saves you and your tutor travel expenses, which makes it a lot more convenient for both of you and can even bring down the price. That is why an online tutor often charges less than a local tutor for the same service.
Choices: Without being limited to your location, it means there are more online German tutors to choose from. You can choose your tutor depending on his/her nationality, gender, age or any kind of specialty you care about. This also means a higher possibility to find a native German speaker for (maybe) better teaching quality.
Convenience: You can also save your class notes in digital forms which allow you to easily take notes, correct and add any contents. Digital notes are also more durable as you don't need to worried about carelessly throwing it away or getting it wet.
Cons
You might get distracted more easily when facing a screen than a real person, maybe by a pop-up message, a phone call, network issue or even a poor screen resolution. That's why some suggest that online tutors might be better for self-disciplined adults than young children.
Instructor-learner connectivity might impact some people's learning experience
You and your online tutor need to make sure the internet connection is working well and stable. A weak Wifi signal can affect the quality of the screen and sound, therefore reducing the overall experience of online lessons.
Websites to Find an Online German Tutor
Preply currently has 205 online German tutors registered. It will show you a list of German tutors depending on the conditions you set, including your purpose of learning, learning goals, level you're at and the languages you can speak. You can also set the price and time. Once you open the tutors' profile page, you can view the details of each German tutor, including tutoring experiences, education, and availability. Students can rate each teacher after taking their lessons. The average rating of German tutors on Preply is 4.8/5.

What is special about Preply?
If you don't know how to find the right German tutor or are simply too lazy to, you can post a request and let tutors find you instead. The option to post a request is on the last page when browsing the teachers. You need to provide what subject you would like to learn, what requirements you have, and what kind of prices you would like to pay.
Price: $5 – $36/hour, depends on tutors and lessons
Payment options: Visa, Mastercard, and PayPal
Flexibility of lesson plans ★★★✩✩
After your first free trial hour, you have to buy at least 5 hours for your next purchase. Preply offers discounts for packages of 10 and 20 hours.
User Experience ★★★✩✩
In general, Preply offers an intuitive user interface. It's easy to find a teacher, easy to add hours and easy to monitor all your learning progress. However, its tutor pages contain quite a lot of information and can sometimes be disorienting.
Customer Support ★★★★★
You can check the customer support at the bottom right corner. FAQs are well organized to help you book lessons with tutors. You can also find instant help by contacting online customer support. Business hours — 6 am – 11 pm on weekdays, 8 am – 6 pm on weekends.
Final verdict: ★★★✩✩
Preply is by all standards a decent platform to find a German tutor. Nice interface, detailed information on tutors and great customer support. However, they don't treat their tutors very well and you can see a lot of them complaining on third-party websites.
– Generous cancellation policy.
– Transparent pricing, great review/ rating mechanism.
– Advanced filtering system.
– Harder to navigate through the scheduling system.
How lessons are conducted: via Skype
italki has 301 German tutors online, 73% of which are native speakers. You can filter the tutors by price, time, nationality, and the languages they speak. Just like Prepely, italki offers filters that can classify teachers into different categories of specialty (Business German, General German, German Language Test…) so you can choose the ones that meet your needs. Each German tutor on italki has their own intro video, which allows you to know more about their teaching style and lessons. Personal profiles are also available for browsing.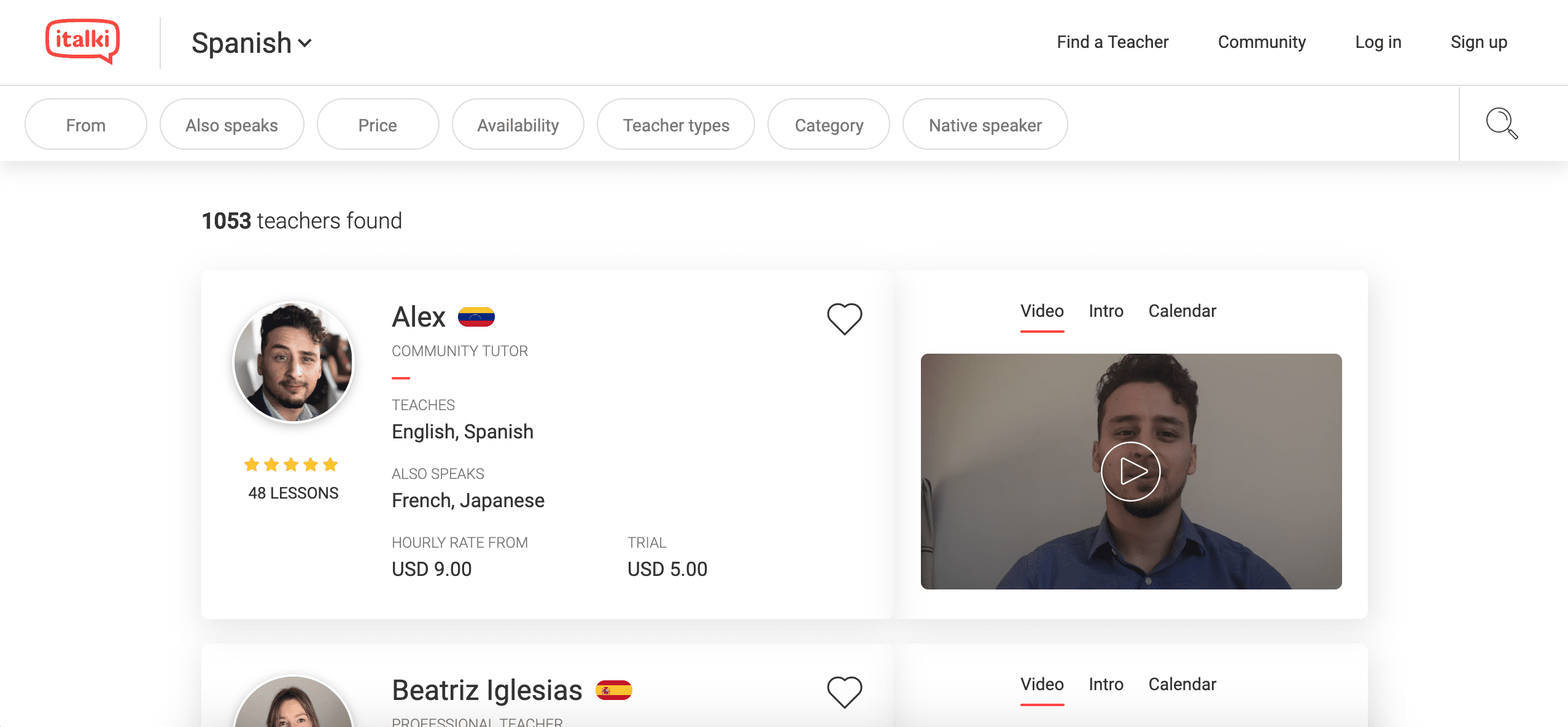 What is special about Italki?
So, what makes Italki special? Italki separates its teachers into two categories, one is professional teachers while the other one is community tutors. Professional teachers are guaranteed to have certifications and professional experience but come with a higher price, while community tutors are just native speakers or advanced learners who can help you practice speaking with lower prices. You can often find decent community tutors to help you learn if you look hard enough.
Price: $4 – $80/hour, depends on tutors and lessons
Payment options: Visa, Mastercard, Paypal, Alipay, Skrill eWallet and Bank Transfer
Flexibility of lesson plans ★★★★★
You can add any amount of credits to your account. Then you can use your credits to buy either one or multiple lessons. Usually, the more you buy, the more discounts you get (depends on the tutor).
User Experience ★★★★✩
Italki has a much better user experience after its redesign, making it more elegant and more intuitive. All the functions you'll need are on your dashboard and you can learn to navigate pretty easily.
Customer Support ★★★✩✩
There's only one support center on Italki. If you can't solve your problems by browsing the faq materials. You'll need to wait a long time before being contacted by email.
Overall Verdict ★★★★✩
Great interface, good teacher quality, and active community make iTalki a great choice to get a German tutor and start your language learning journey. However, slow customer support and little discount are a few of its downsides.
– The largest number of tutors online.
– Have its own discussion community.
– Transparent pricing, great review/ rating mechanism.
– The review section is not the easiest to read.
– Didn't do a great job at localizing the website.
How lessons are conducted: italki has its own mobile app and it definitely makes it a whole lot easier to take lessons. You can take lessons via Skype, Google Hangouts or Facetime.
The most impressive function Amazingtalker provides is their AI auto-matching function that will match you with a German tutor based on your needs. It takes only 3 minutes and is totally free! German tutors on AmazingTalker are recruited from all over the world. You can filter the teachers by price, nationality, languages they speak and their specialty (business, conversational, general German…). To choose your German tutor, you can check both the tutor's profile and the intro video.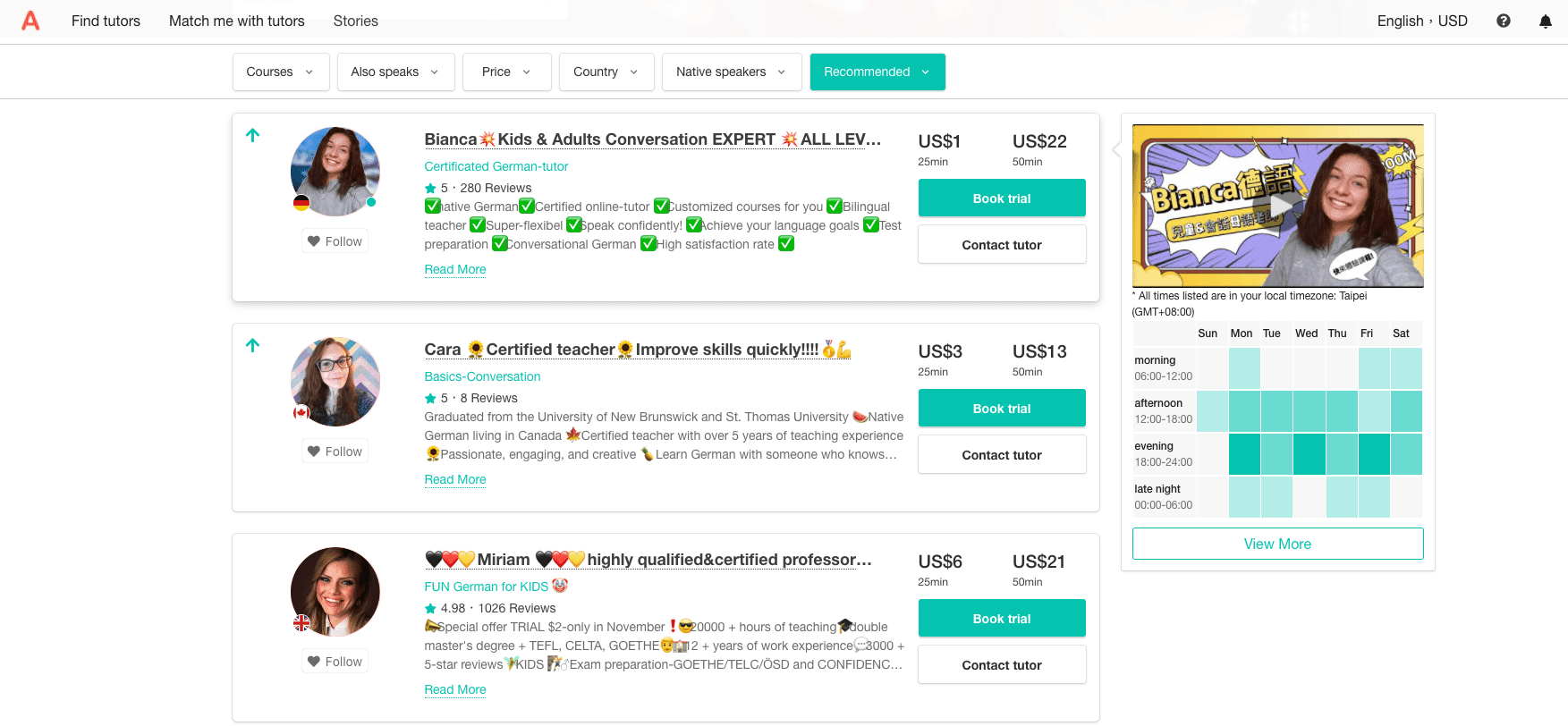 What is special about AmazingTalker?
The biggest difference that makes AmazingTalker stand out is that they have an impressive AI recommendation system in which you simply answer some basic requirements and get responses from tutors within a few hours. Besides, all the teachers on the platform went through a rigorous selection process and are well trained. They understand how to guide a German newbie on the path, even if they don't know a single German word.
Price: $14 – $24/hour, depends on tutors and lessons
Payment options: VISA, Mastercard and JCB
Flexibility of lesson plans ★★★★★
You can buy 1 to 100 lessons according to your needs. AmazingTalker offers discounts for packages of 5, 10, 20 lessons. You can also discuss with your tutors to see if they offer more discounts on buying more than 20 lessons.
User Experience ★★★★✩
The general user experience is really nice on AmazingTalker, easy to look for a new tutor, easy to book your first lesson and easy to navigate through the whole site. However, some users complain about not able to manage their lesson history neatly.
Customer Support ★★★★★
The customer service support is located at the bottom right corner. You can contact the support team if you come upon any problems. The average response time on AmazingTalker is within an hour on weekdays and a few hours on weekends.
Overall Verdict ★★★★★
AmazingTalker is one of the best platforms to find and "be" a tutor. It attracts a lot of high-quality tutors by treating them nicely and generously, which makes it a lot easier to get a good tutor. Coupled with its advanced AI matching system, you are sure to find just the right tutor for yourself.
– Advanced student-tutor matching system, you will be contacted directly by tutors.
– Transparent pricing, great review/ rating mechanism.
– Built-in messenger.
– Tutor number is somewhat limited, it might be harder to find tutors for less-spoken language.
How lessons are conducted:
via
Zoom app

Wyzant currently has 232 German tutors on their site. You can find both online and local tutors. Different filters can be set based on your personal preference., such as time, age, gender, and price. The student's level is also one of the conditions for finding a German tutor. Each tutor's profile shows information like prices, hours taught, student reviews and education.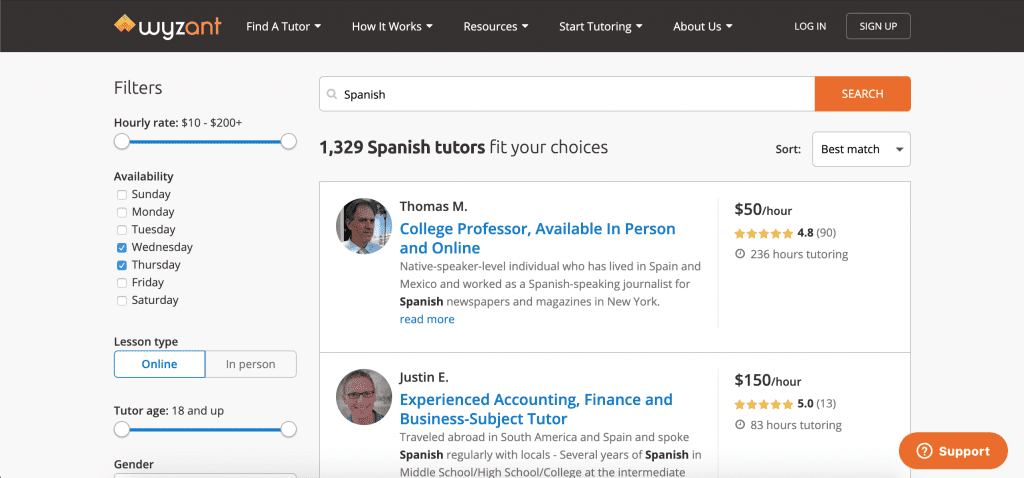 Price: Set by each tutor starting from $10 per hour.
– Transparent pricing, great review/ rating mechanism.
– Able to find both online and offline tutors.
– Lots of tutors on the platform.
– No tutor intro videos.
– Filtering is somewhat limited.
How lessons are conducted: Wyzant online learning tool
Verbling focuses their services on language learning and connecting students to tutors. German tutors can be found by several filters like price, available time, skills, nationality, and gender. From the tutor's profile, you can check their educational background, certifications, work experience, and an intro video. The schedule and even the accent of each tutor are shown clearly. The topics and the content of the lessons that the tutor covers are also in the details.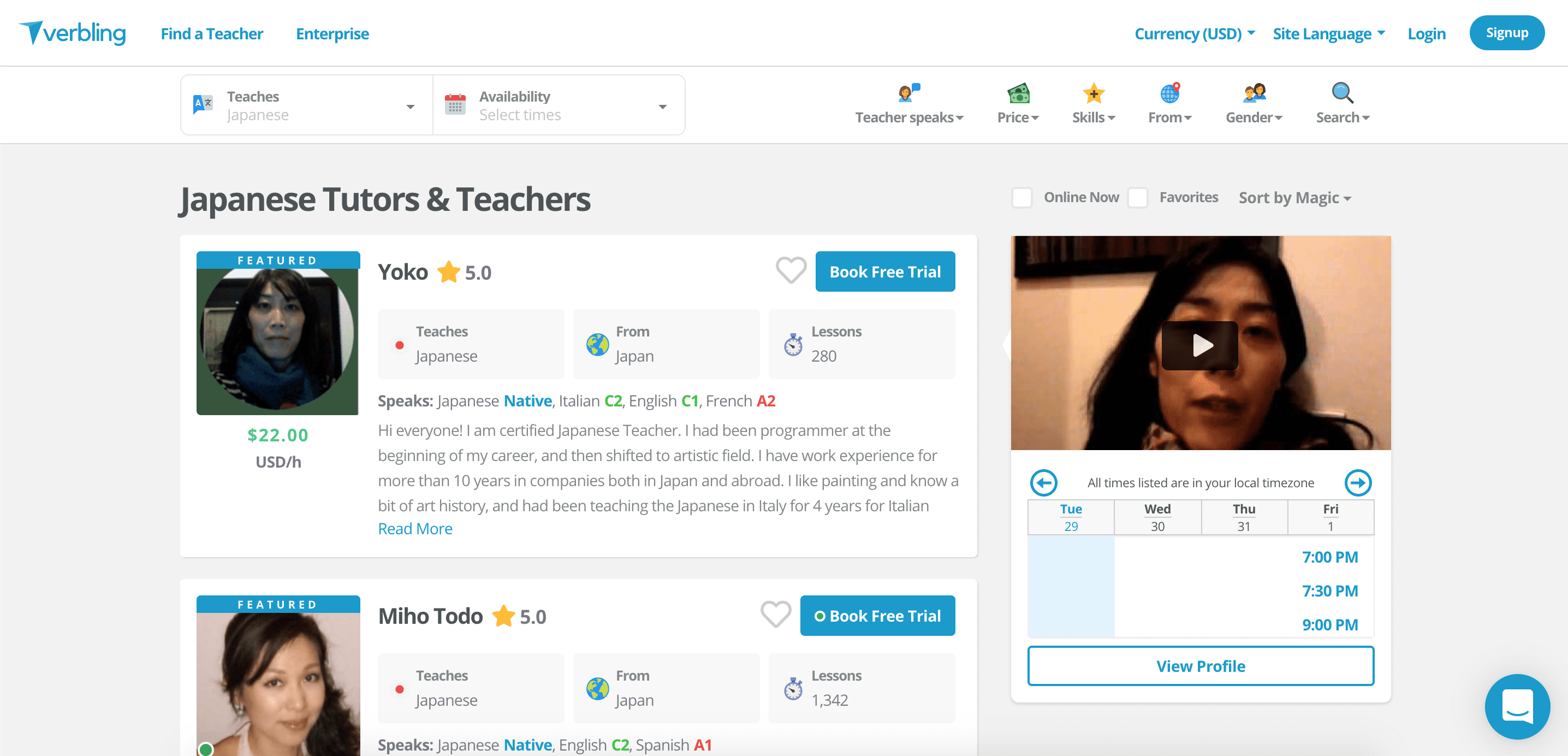 What is special about Verbling?
Unlike other platforms focusing more on matching students with tutors, Verbling offers a wide variety of useful tools for students to learn a new language. They have their own classroom so you don't need to go to Skype to have lessons with your tutors. They also provide a workspace inside the classroom, your tutor would put all the teaching materials there for you to review easily.
Price: $6 – $60/hour, depends on tutors and lessons
Payment options: Visa, Mastercard, American Express, Discover, Paypal, Alipay, Wechat and many other forms (depends on country)
Flexibility of lesson plans ★★★★✩
Verbling offers 1, 5, 10, 20 and 50 lesson packages. You can get discounts when buying more than 5 lessons at a time, but the amount of discounts also depends on each tutor.
User Experience ★★★★★
Verbling's user interface is not the most beautiful, but it offers virtual classrooms and vocabulary decks to help your German language learning. We really like it since it's quite unique among other platforms and very useful.
Customer Support ★★★★★
You can get instant help at the bottom right corner of the page. The Verbling support team usually replies within an hour. You can search for FAQs in the chatbox as well.
Overall Verdict ★★★★★
Verbling is a really great website to find online tutors. Not much to complain about and it comes with many thoughtful small features to make learning a whole lot easier. However, it does a poor job at marketing so brand awareness is quite low.
– Own multi-functional video-chat system.
– Transparent pricing, great review/ rating mechanism.
– Have its own discussion board and language learning articles.
– Purchases can only be refunded in Verbling credits.
How lessons are conducted: via Verbling's own video-chat interface.
Looking for some Online German Classes?
The 9 Best Online German Classes You Should Know
German Tutor – In-person Local German Tutors Pros & Cons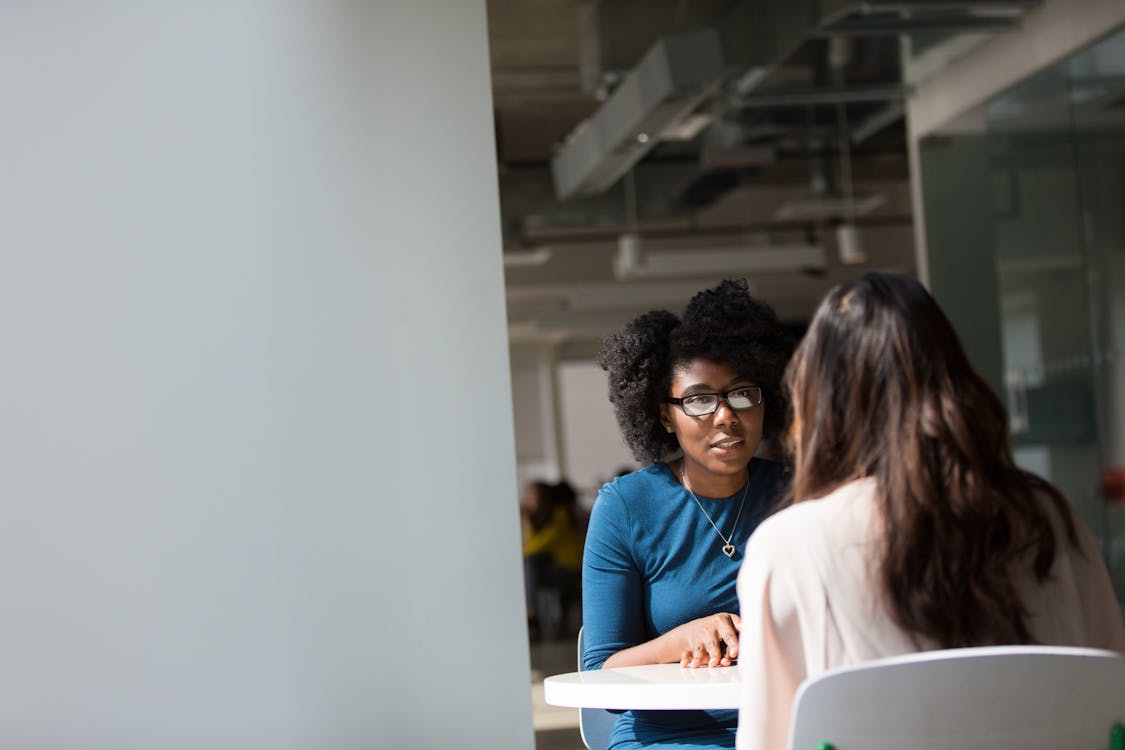 Pros
Local German tutors offer a better learning experience in terms of interaction and intimacy. You feel more supported by your German tutor in person than through Skype.
A face to face German lesson allows the tutors to know you better in terms of your learning progress and the teaching style you are most comfortable with.
There's no disruption by poor internet connection when taking a face to face German lesson.
Cons
Though local German tutors are supportive during the lessons, It's harder for them to track and solve your instant need after the lesson. Typically, you will have to wait until the next lesson to solve the problems.
You have to pay more attention on selecting a local tutor who is going to visit your house to teach you or your children.
It takes longer to find a local tutor, and the process can be stressful.
Websites to Find a Local German Tutor Near Me
Tutors.com connects students with teachers teaching different subjects, including language (e.g. German), art, science, math and so on. You need to answer a few questions first, including student's age, the purpose of tutoring, frequency of tutoring, length of the service, time and zip code. The system then matches you with German tutors that fit your requirement and a specialist will contact you. You can view their background and experience to choose the right one.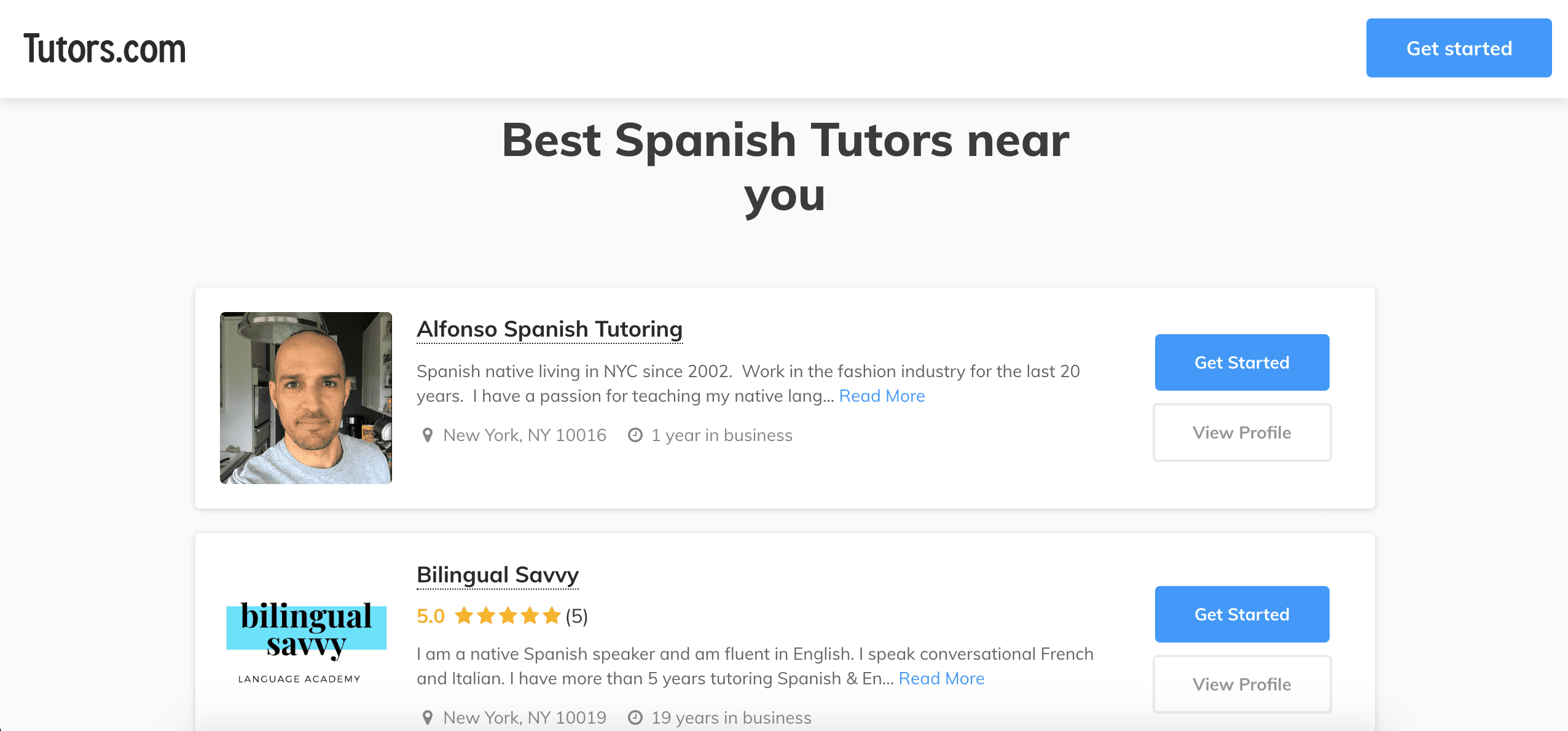 Price: not revealed on the site (need to make a request via email)
– Will ask you a few questions to understand your requirements.
– Will send you info on recommended tutors.
Cons:
– Limited tutor info.
– Not the easiest website to navigate.
– Few reviews.
Takelessons started its business in 2006. Originally, it started out by connecting only music teachers with students, but now there are various kinds of lessons on the site. You only need to provide your zip code to find a German tutor and compare their qualifications, including background, age, and experience. Once you have scheduled a lesson with your German tutor, you can choose to either take a local lesson or an online one (if your tutors provide both types of lessons).
Price: The national average price is $49 per hour. The exact price varies depending on the tutors, types of lessons, location and so on.
Thumbtack provides a wide range of services. People can easily find professionals from different fields including language learning, house cleaning, personal training and almost all kinds of services you can think of. To find a German tutor, you need to first provide your zip code, travel preference, and age. Then you will see a list of teachers based on the filter you set. Each German tutor has a personal profile. Details such as the tutor's price, experience, business hours, payment methods, student reviews, and ratings can be seen on the profile. You can send messages or request a call with the tutor for further information.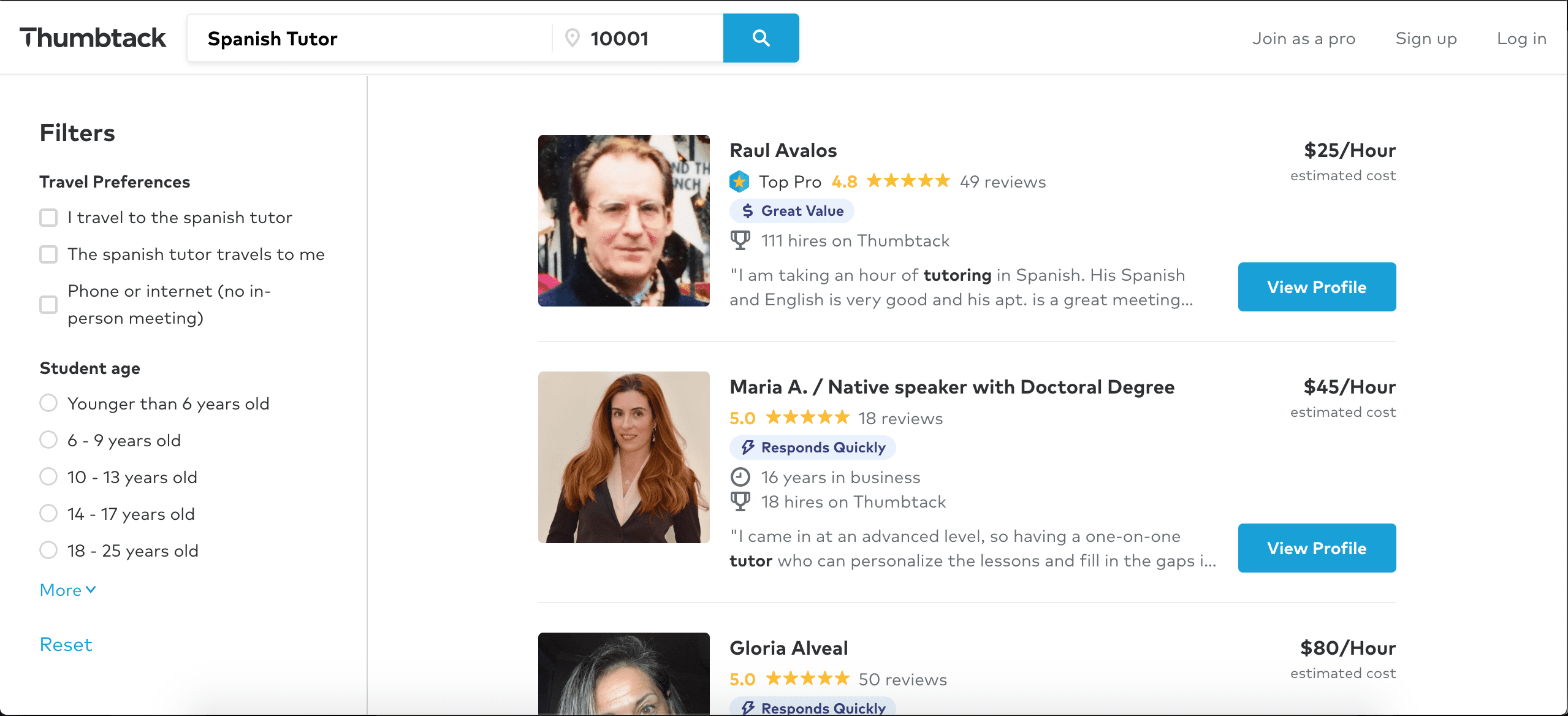 Price: Starting from $15 per hour. The price difference is based on the sizes of class (group or individual), travel cost and teachers.
Pros
Easily locate yourself and find the nearest tutor
Provides both remote classes and in-home classes
Cons
You can only see the estimated price and have to ask the tutor to get the final price
Much more costly than other tutor platforms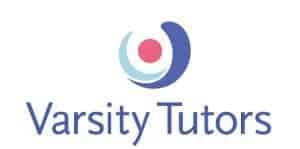 Varsity Tutors provides tutoring services on multiple subjects, including German. You can find complete profiles with basic information. However, you can only filter tutors by subjects and location. Also, you need to make a call or send a request via email in order to get the evaluation price and accurate schedule for taking lessons. German tutors from Varsity Tutors provide both online and local lessons.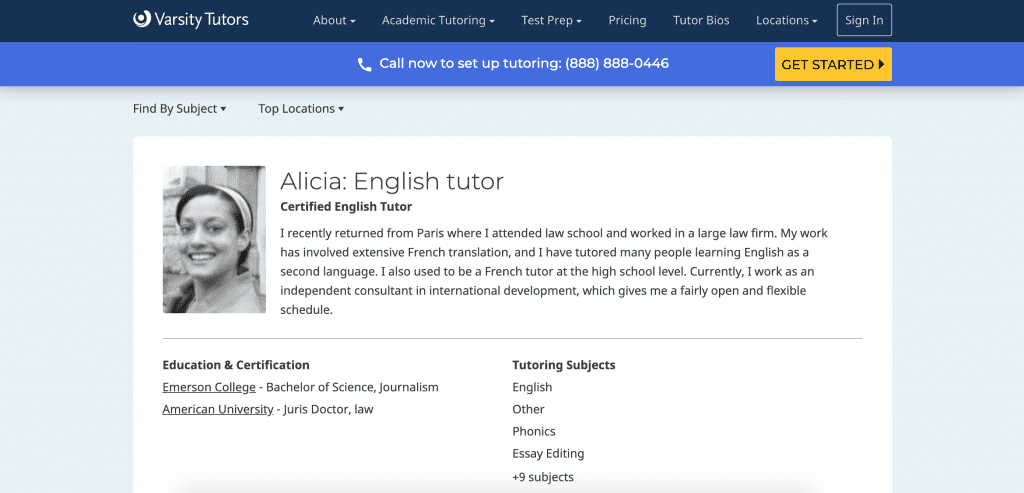 Price: Not revealed on the site, need to make a call or send an email request
– Information on recommended tutors will be sent to you.
– Can find both online and offline tutors.
– No transparent pricing.
– Limited information on tutors.
– Hard to navigate, filter and view all tutors.
HeyTutor provides not only math tutors but also other subjects, such as art, computer, and German. You can narrow down the options of local German tutors by choosing the location and distance. To get the list of German tutors you need to send a request including some basic requirements. Tutor profiles consist of education, qualification, photo and tutors' bio. Student reviews are also available for each tutor.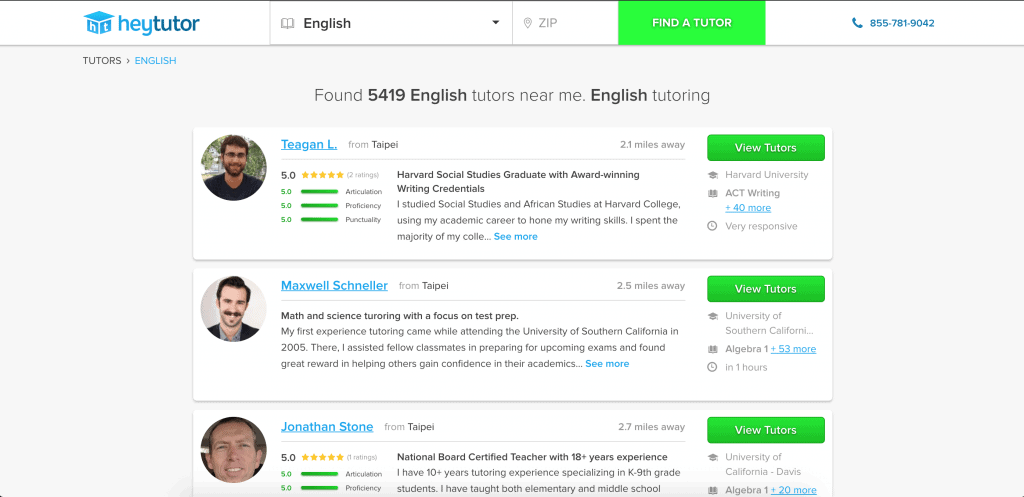 What is special about HeyTutor?
They offer two different kinds of services. The one is on-demand online tutoring, in which you can enjoy lessons from the comfort of your own home. The other one is private in-person tutoring, in which you can get HeyTutor handpicked candidates, along with background checks (extra money needed).
Price: Inquire for quotes, depends on tutors and lessons
Payment options: Visa, Mastercard
Flexibility of lesson plans ★★★✩✩
You can buy 10, 20 or 30 hours of tutoring. All lessons are pre-paid with a one-time purchase. You can renew your package plan if you need more hours.
User Experience ★★✩✩✩
The general user experience is OK. However, you only get limited information when you are not logged in. You can't preview tutors and if you want to know more about a tutor, you have to contact the tutor.
Customer Support ★★★✩✩
There's not much information in the FAQs, but they offer phone customer support. Though not as convenient as online support. You can give a call to solve the problems you meet.
– Will ask you a few questions to understand your requirements.
– Will send you info on recommended tutors.
– Won't let you view the teacher's info unless you fill out your phone number.
– No transparent pricing.
– Really hard to navigate.
Looking for more German Language Tutors?
If you like this post and find it helpful, please share it with your friends! It would be a huge support for us.

And if you would like to share your favorite secret German learning resources, please feel free to leave a comment down below.

Let's make learning German fun and easy!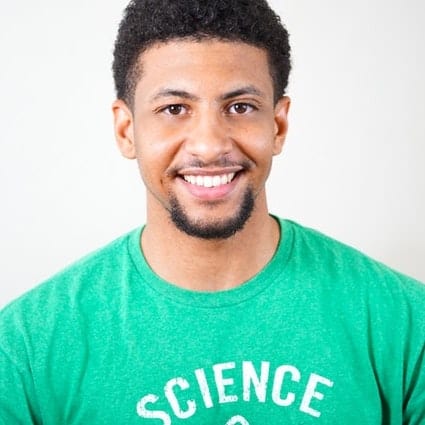 Irving B. Johnson
Addicted to language learning since I was 16. I have experience being a private tutor, translator, interpreter and language consultant. Now a full-time blogger focusing on helping people enjoy learning language as I do.