Why Should I Learn French?
Learning a new language is like a portal to a different culture, but the benefits go deeper than that.

A recent study showed that young adults proficient in two languages performed much better on attention tests and had better concentration than those who spoke only one language.

They even found that being bilingual (even not fluently) can actually prevent cognitive aging.
Pretty cool huh?

If you're committed to learning French, you're making an extremely smart decision for your future. Here's why: The Five Hour Rule.

This study by Entrepreneur Magazine found that 83% of self-made millionaires spend (at least) 1 hour a day, 5 days a week learning something- Bill Gates and Elon Musk, to name a few.

Why not make learning French part of your 5-Hour Rule?

French is the second most widely learned foreign language after English, and the fifth most widely spoken language in the world.

Learning French will open give you a huge advantage in the international job market and open up limitless possibilities in France and other French-speaking countries.

A Key to Learning other Languages
Additionally, learning French is a portal to mastering other languages such as Spanish, Italian, Portuguese, Romanian, and English.

This is because a large part of these language's vocabulary is derived from French.

Travel or Study Abroad in France
The ability to study and travel abroad is priceless: France is home to some of the top universities and learning institutes in the world.

Lastly, if you're considering relocating to France some day, you will find that they have one of the best healthcare systems in the world (the World Health Organization ranks them #1!)

The French government generally refunds patients 70% of most health care costs, and 100% in case of costly or long-term ailments.

And of course, France's rich culture of art, fashion, literature, etc. is worth experiencing (even if it's through the use of technology/language).

Should I Learn French Online? (Pros and Cons)
If you're considering learning French online, you may be wondering if a virtual classroom is right for you.

Whether you've never taken an online class before, or you're an e-learning pro, many people are skeptical about learning a language online.

Let's take a look at some of the pros and cons of online language learning.

Pros:

Learn at your own pace without feeling rushed or overwhelmed, while also being held accountable
Commute: if it takes you 30 minutes to commute to a physical classroom, virtual learning will save you a minimum of 26 hours per year
Skype meetings may seem unnerving at first. But since this method relies entirely on communication, students find that this makes them more confident speakers in both their native language and the language they're learning.
Online class makes learners rely on their voice and your voice. This helps the learner to focus more on what's important
It's easy to send links to pictures and videos during lessons to help illustrate a concept or vocabulary word if you don't understand it
Learn French from a coffee shop, during your work break, or from your cozy bed (no judgement here!) Learning from your preferred setting will set you up for success and help calm your first-day jitters. Having an effective learning environment makes all the difference!
Cost: learning French online is almost always significantly cheaper than private in-person lessons.
Cons:

You get what you pay for: while there are websites that offer lessons with highly experienced French teachers, most tutors specialize in conversational language learning.
Most websites have hundreds of French tutor options, which only a profile of experience and personality to help you choose.
But never fear: conversation with a native speaker is one of the best ways to learn a language.
In fact, one hour of conversation (with corrections and a dictionary for reference) is as good as five hours in a classroom and 10 hours in a language course by yourself.
And when you find a reputable site to learn French, you can know that your odds of finding an amazing, qualified tutor are greatly increased.
How Hard are Online French Classes?
Now that you know some of the benefits (and challenges) of learning French online, let's look at the average difficulty level of these courses.

While learning something new can be scary at first, you will find that if you are dedicated and determined to learn French, the pros will always outweigh the cons of learning online.

If you want to make it happen: you will!

But just how hard will you have to work? You may be worried about the difficulty level of online French classes, and that's okay!

You are probably juggling other responsibilities such as work, school, and/or kiddos.

A successful course will be engaging enough to challenge you daily, while remaining manageable and *gasp*…maybe even fun?

Let's take a look at the average difficulty level of an online French course to calm any first-day nerves.

The Foreign Service Institute (FSI) created a graphic showing the approximate time you need to learn a specific language as a native English speaker: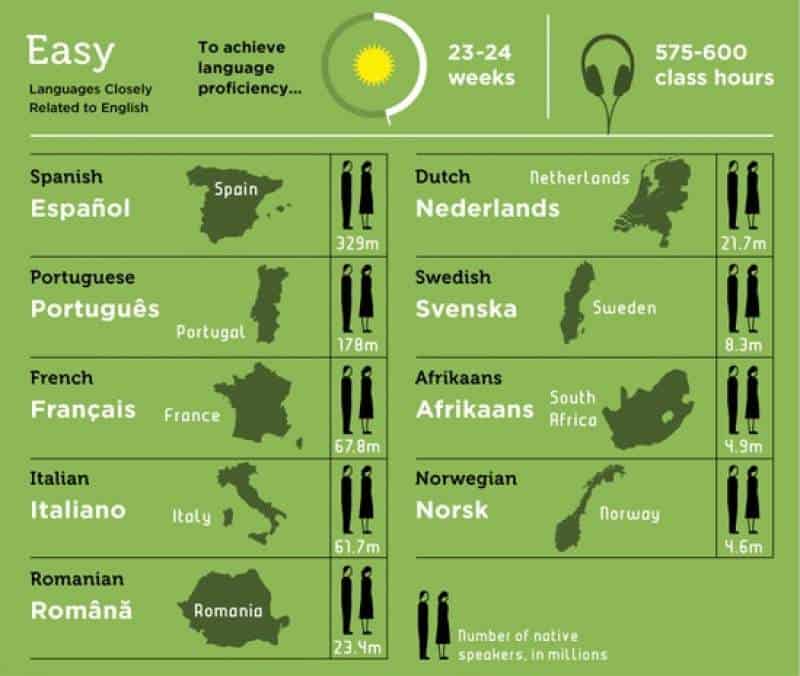 Since 45% of all english words have a French origin, English speakers are in luck.

Here are some French vocabulary words that you may already recognize:

le menu
la nature
la photo
le sandwich
That being said, many new French learners find that the pronunciation is especially tricky.

That's where online French lessons come in: your tutor will be able to correct any mispronunciations and give you tips to improve fluency.

Who better to learn from then someone who speaks French everyday?

Although the pronunciation may seem difficult at first, it is actually much more consistent than other languages– especially English.

Therefore, once you have the basic frameworks down, it's smooth sailing from there on out.

Even if you're not a native English speaker, don't be discouraged.

A high quality online class can have you speaking French (and impressing your friends) in as little as 3 months.
Where Can I Take French Classes Online? The Top 5 Best Online French Classes
Since conversation is one of the best ways to learn French, we'll first take a look at the top 5 French learning websites that allow you to speak 1-on-1 with a native speaking tutor.
What is Live Lingua?
Live Lingua matches students (over 18,300) with qualified tutors from around the world.

They pride themselves on not be a boring software program, but instead are "an online language immersion school with live teachers & staff to assist you each step of the way."

Let's look at some of Live Lingua's best features and why it made the cut.

Best Features:

Free 60 minute trial French lesson to see if Live Lingua works for you- with no initial investment necessary. This is a much longer trial session than most online language institutes
Lessons are as low as $25 per hour: live Lingua hires French tutors who actually live in their own country where the cost of living is less, and pass these saving on to you
Live Lingua has strict requirements for employment: all tutors must have multiple years of teaching experience
All tutors have university degrees from universities in France and around the world.
Tutors are required to speak a second language in addition to French so they know how to learn as well as teach a language. You can feel confident that they can understand your native language to make communication easier.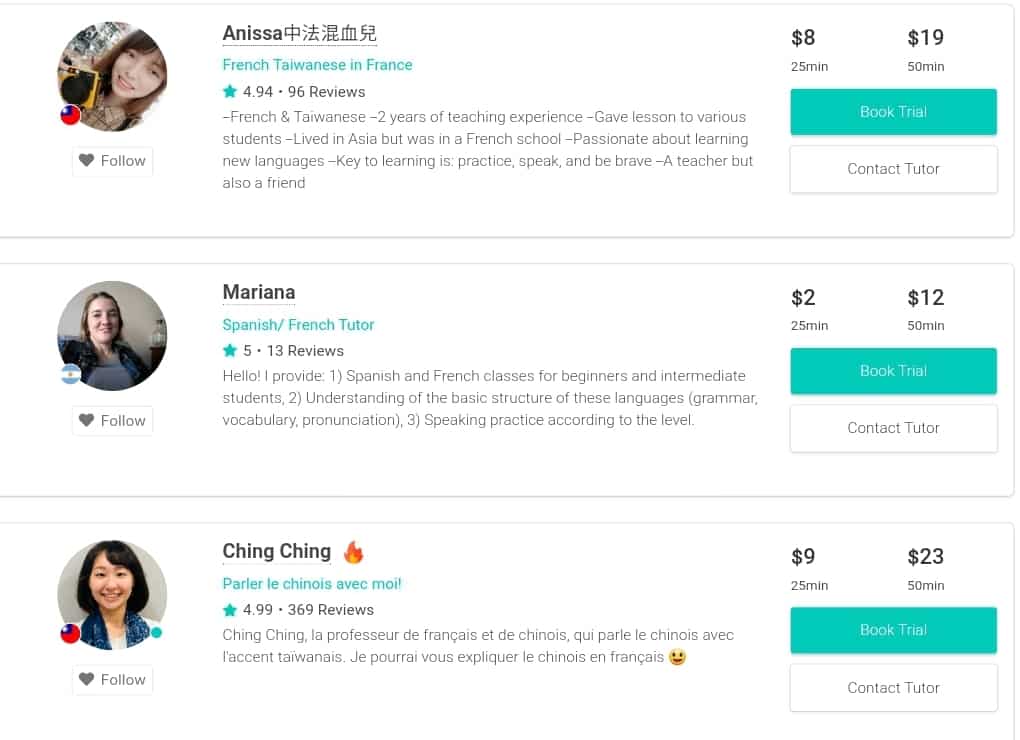 What is Amazing Talker?
Amazing Talker thinks that learning a language should be more than just grammar, and more like making friends.

Knowing the benefits that conversation has on language memory and retention, it's a no-brainer that a friendly tutor who puts you at ease (even as an absolute beginner) will help you learn more, faster.

Best Features:

Buy one lesson or 100 lessons: you can pay as you go, whatever is easier for you
Extensive tutor profiles: find the right fit. A self-introduction video, resume, and student's reviews are all easily visible to the public
Each tutor's rating is broken down by category based on student's reviews: satisfaction rate, attendance rate, and reply rate. A high rating in each of these categories suggests that a tutor is very qualified- making it easier to find a reputable teacher you can trust.
AI technology: if desired, you can enter your basic information, and the Amazing Talker's AI will pair you with a list of best-fit tutors
Easy to use site design: browse by Outstanding Tutors, Lowest Price First, Most Lessons Completed First, and more
Book a trial-run lesson with any tutor to make sure they're a great fit.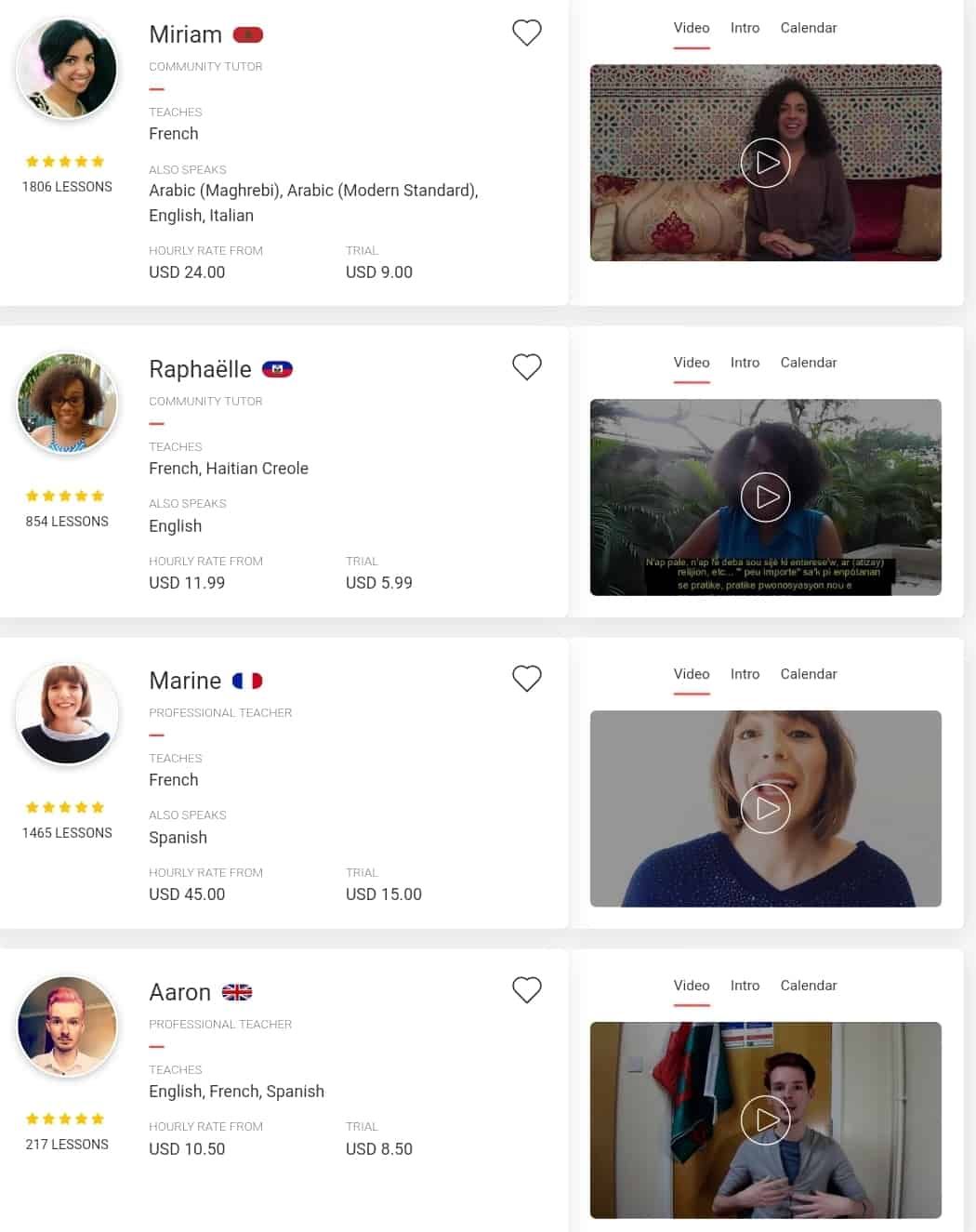 What is Italki?
Italki has one of the largest bases of online French teachers available, with over 10,000 to choose from.

Italki sees learning a language as a multifaceted process: "It's about mastering a timeless skill, cultivating new perspectives, and connecting with fascinating people from around the world."

Best Features:

Depending on how long your lessons are, lessons start at $4, which is a great value for your money.
The ability to pick your teacher type helps account for both your financial preferences and experience level. This makes it easy to specifically tailor how you learn.
Browse French teachers by five categories based on what you want to learn: General, Business, Test Preparation, Kids, and Conversation Practice
French Test Prep: Italki can help you qualify for the DELF, DALF, and any other French language exam
They have helped more than 5 million students, so they are a really popular option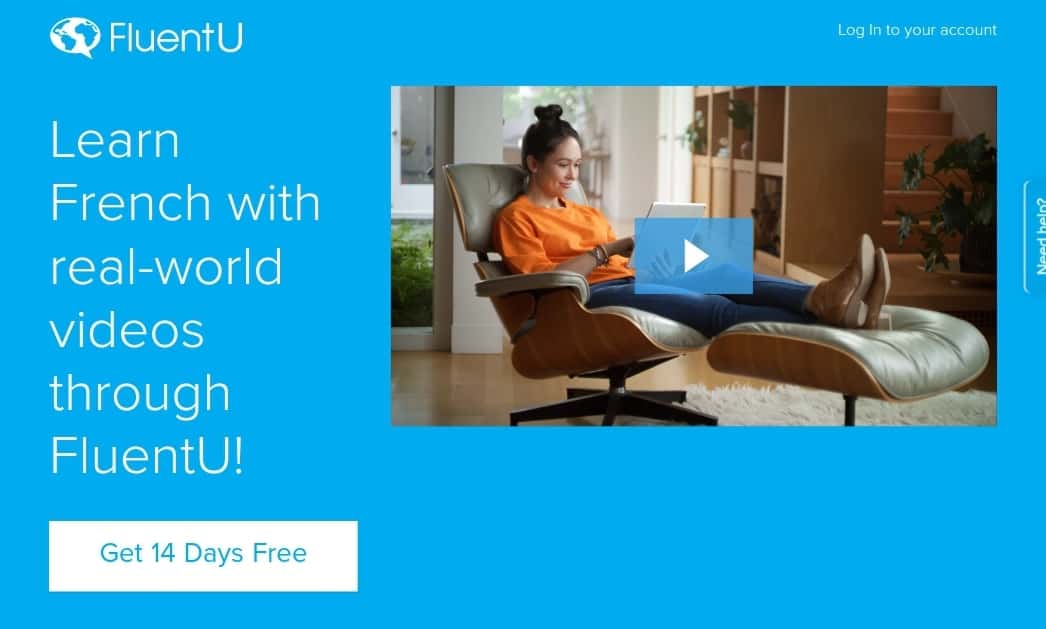 What Is FluentU?
FluentU describes their website as "a flexible online learning solution that lets you study the French language through the web's best videos."

FluentU is different from other online French tutoring sites, as it doesn't involve any 1-on-1 tutoring with a native speaker.

The learner engages with the content by watching French videos that are interesting to them.

So if you love learning through visual media, you may have found your perfect match with FluentU.

Best Features:

FluentU is a great option for those who prefer a less traditional French tutoring experience, and want to learn French in a "real world" context
FluentU is constantly adding new content to their program. They always improve to ensure that their videos are relevant and effective.
Monthly pricing plans at $8 or $18 a month, which is very affordable
French language Immersion without any tedious work
You can create a profile and test out the site for free to see if FluentU is right for you
Visual learners will benefit greatly from this style of learning French (especially if you love cinema)
FluentU says that: "By consistently exposing yourself to native language use with video, you can gradually teach your brain to recognize the new sounds of the language you're learning, eventually increasing your ability not only to hear and understand but also to use the new sounds and words you're learning."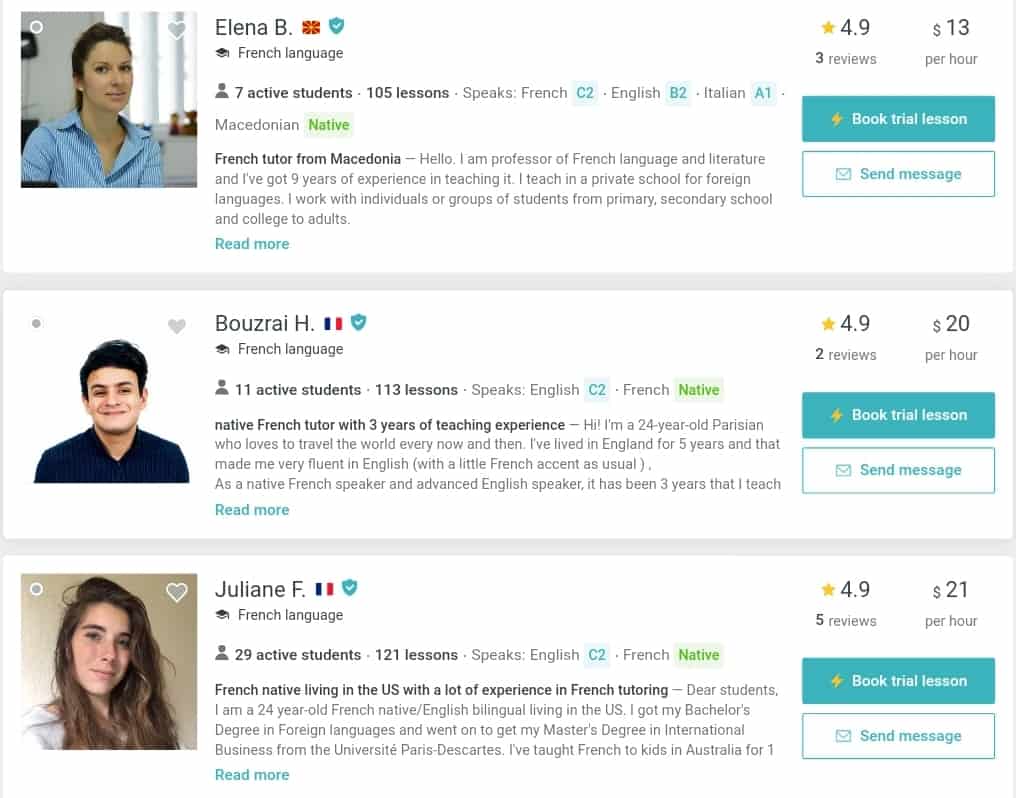 What is Preply?
If you are unsure of which French tutor will best suit your needs, you have the option of posting a request for a teacher, instead of searching for one yourself.

This is a great option if you don't have time to search for a tutor and want to start as soon as possible.

That way, your perfect French tutor can find you, instead of the other way around.The reason they're at number 5 is because you have to buy a package of at least 5 classes, so there is slightly less flexibility in booking classes.

Best Features

Preply is home to qualified tutors from over 185 countries, making them a highly diverse pool of teachers
Their current French tutor count is 469, so they have a sufficient amount of teachers to choose from
The site mediates payments between you and your tutor, to avoid any possible problems
Includes an app to make it easy to manage your French lessons
If a class doesn't meet your expectations, Preply offers to refund the amount of pay for a trial lesson with a different tutor
No matter which website you choose to learn to learn French online, the most important factor at the end of the day is determination and a drive to learn.
Craving for more content? Check out our article "I love you in French" at this link.
If you put the work into learning French, you can do it in no time. Au revoir!