Beginners may find learning Chinese to be hard and frustrating, with all the characters and Pinyin. Unlike English, instead of 26 alphabets, the common Chinese characters amounts to more than 8000 in total! Chinese children need to practice writing characters everyday for more than 6 years before they can really master them, and many people still write wrong words when they become adults!
So don't get frustrated if you are having a hard time memorizing Chinese characters. Just keep on learning and never give up! More importantly, find the right way to help you learn and practice. A tutor, whether native or not, can give you personalized classes with instant feedbacks on your performance and is often the most efficient way to learn another language.
Finding a Chinese Tutor – Near Me or Online?
Before starting to look for a Chinese tutor, you might come upon a choice between an in-person tutor or an online tutor. Besides the old fashioned face to face tutoring, online tutors have also become increasingly popular due to the fact that it is more convenient and often costs less. So, which one should you go for? What are the pros and cons?
Chinese tutor near me – pros and cons
Hiring an in-person tutor remains a common choice for language learners. Many prefer it because of the interactions you are able to have with a real person instead of talking to a computer screen. Face to face tutoring also lets you have easier and more instant feedbacks on your work or output. However, it is limited to your location and requires traveling time for the tutor and you. It also usually cost more than an online session and it less flexible.
Pros:
More interactions in class
Better feedback on your works
No connection or network issues
Cons:
Less flexible schedule
Requires travel
Limited to your location
Often cost more
Chinese tutor online – pros and cons
Study with a Chinese tutor online is much more convenient, in many people's opinion. There is no need to travel far to get Chinese lessons. Also, you are not limited to your country or location and can find high-quality or native teachers far more easier. Not to mention the price is often cheaper than in-person tutoring. However, it could get boring talking into a microphone and therefore requires more concentration. You might also have a bad learning experience if the internet connection is not stable.
Pros:
Flexible schedule
No need to travel
Easier to find native tutors
Not limited to the tutor pool near you
Rates are often cheaper
Cons:
Some people don't like the lack of human interaction
Might get interrupted if network connection is not stable
Harder to concentrate
With that being said, let's focus on some of the best platforms for you to find the perfect Chinese tutor!
Find Online Chinese Tutors
1. Preply – Learn mandarin online
Preply was established in 2012 and has since provided its service to many teachers and students worldwide. You can find tutors based on your available time and schedule. Most of the Chinese tutors on Preply are based in China and can speak several other languages. Popular tutors are marked to make selection much easier. You can also see detailed information on the teachers' profiles. Most of them speaks English so you shouldn't have any problem if you are not ready to take all-Chinese classes.
One of Preply's prominent feature is a clear profile. As you can see in the picture, almost all the information of the tutor is available at first glance. You can use the teachers' ratings the reviews to make the decision. Prices are also visible and transparent. Before deciding which tutor you'd like to learn with, you can always book a free trial to get a taste of the actual class.
Pros:
First trial lesson 

is free

Clear profile info (rating/ reviews/ popularity)
Easy to search and easy to find tutors
English-friendly
Over

 400+

 Chinese tutors online!
Cons:
Can't refund the full package if you are not satisfied with the tutor after the first class
While it has a lot of information on tutors, it could sometimes be a bit overwhelming
Price from: $10
Payment options: Visa, Mastercard and PayPal
Flexibility of lesson plans  ★★★✩✩
After your first free trial lesson, you have to buy at least 5 hours on your next purchase. Preply offers discounts for packages of 10 and 20 hours.
User Experience  ★★★✩✩
In general, Preply offers an intuitive user interface. It's quite easy to find a tutor, easy to buy sessions and easy to monitor all your learning progress. However its tutor pages contain quite a lot of information and can sometimes be disorienting.
Customer Support  ★★★★★
You can contact customer support and check FAQs at the bottom right corner. FAQs are well organized to help you book lessons with tutors. You can also find instant help by contacting online customer support. Business hours — 6 am – 11 pm on weekdays, 8 am – 6 pm on weekends.
Final verdict: ★★★✩✩
Preply is by all means a decent platform to find a Chinese tutor. Nice interface, detailed information on tutors and great customer support. However they don't treat their tutors very well and you can see a lot of them complaining on third-party websites.
2. Amazingtalker – Best Mandarin Tutor Online   

Amazingtalker is an up-and-comer in the tutioring industry. Founded in 2016, it is relatively young compared to the other players. However, they are expanding aggressively and now they have over 200 high-quality Chinese tutors registered. Most of their teachers are from Taiwan. (They also have Chinese teachers) You might have heard about the difference between traditional Chinese and simplified Chinese. In case you are more interested in the former, AmazingTalker is your best choice.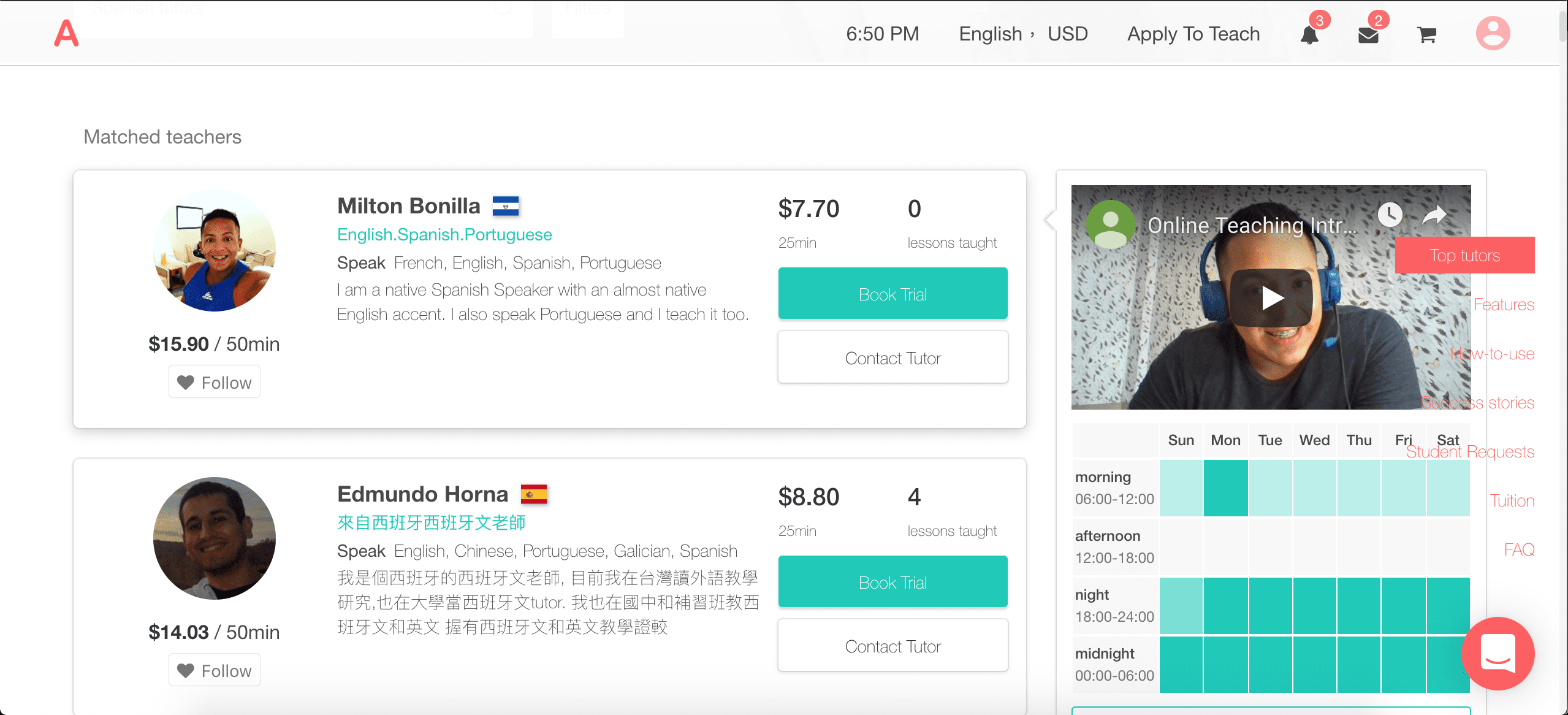 Although the tutor's profile is not as clear as Preply's at first glance , you can actually find out more about the tutor after clicking into the tutor's profile. Such as their performance history and attendance rate to help you to make an informed decision.

On the website, the price of the Chinese tutoring is visible. It ranges from $10-20 per hour, if you are still considering choosing which is your best, you can also try 25 minutes trial. You can also book your courses flexibly, which means you could book only one lesson. Of course, you will get more discount, if you book a package. 
What is special about AmazingTalker?
The biggest difference that makes AmazingTalker stands out is that they have an impressive AI recommendation system in which you simply answer some basic requirements and get responses from tutors within a few hours. Besides, all the teachers on the platform went through a rigorous selection process and are well trained. They understand how to guide a Chinese newbie on the path, even if they don't know a single Chinese word.
Pros:
Traditional Chinese is the main feature
Cancel your course package anytime it you are not satisfied with the current teacher
Cheapest average price among all the language platform
Immediate customer support 
Price From: $5
Payment options: VISA, Mastercard and JCB
Flexibility of lesson plans  ★★★★★
You can buy 1 to 100 lessons according to your needs. AmazingTalker offers discounts for packages of 5, 10, 20 lessons. You can also discuss with your tutors to see if they offer more discounts on buying more than 20 lessons.
User Experience  ★★★★✩
The general user experience is really nice on AmazingTalker, easy to look for a new tutor, easy to book your first lesson and easy to navigate through the whole site. However, some users complain about not able to manage their lesson history neatly.
Customer Support  ★★★★★
The customer service support is located at the bottom right corner. You can contact the support team if you came upon any problems. The average response time on AmazingTalker is within an hour on weekdays and a few hours on weekends.
Overall Verdict ★★★★★
AmazingTalker is one of the best platforms to find and "be" a tutor. It attracts a lot of high-quality tutors by treating them nicely and generously, which makes it a lot easier to get a good tutor. Coupled with its advanced AI matching system, you are sure to find just the right tutor for yourself.
3. italki- Find the Best Chinese Tutor Online
Italki is currently the largest website for language learning including even some dialects or rare languages as long as you can name it. Their Chinese tutors are mostly from China and Taiwan. You can also find some bilingual tutors from the US or Europe who also can speak Chinese very well. The price is not as expensive as Thumbtack and Care.com and ranges from $15-$25 per hour on average. You can also try out their 30 minutes trial lessons at a lower price. 
They also have an open discussion forum for Chinese learners. You can freely start up topics and discussions about learning the Chinese language.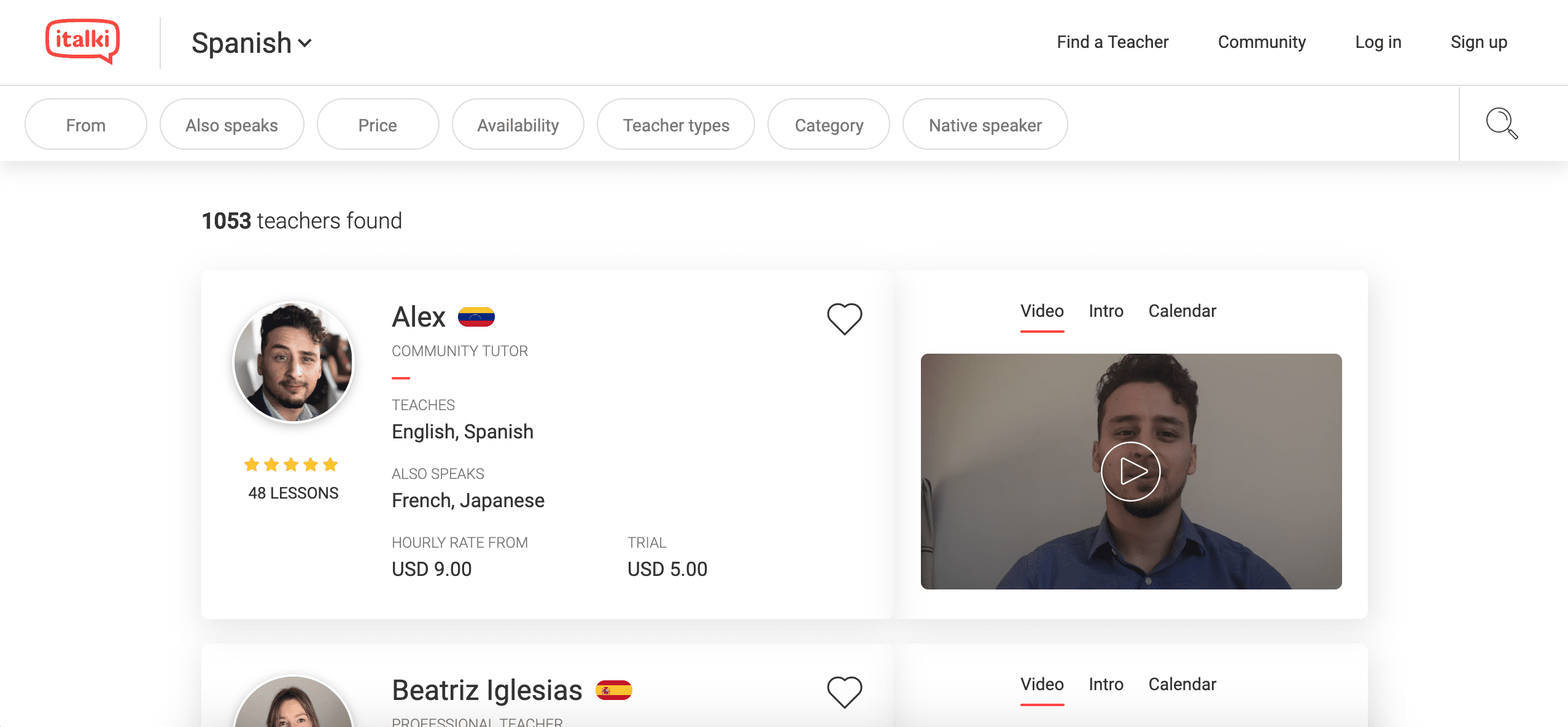 Pros: 
They have an active discussion community to motivate people to discuss more about their current dilemma in learning language 
Handy and stylish design
A huge number of Chinese teachers to choose from
Prices from: $10
Payment options: Visa, Mastercard, Paypal, Alipay, Skrill eWallet and Bank Transfer
Flexibility of lesson plans  ★★★★★
You can add any amount of credits to your account. Then you can use your credit to buy either one or multiple lessons. Usually the more you buy, the more discounts you get (depends on the tutor).
User Experience  ★★★★✩
Italki has a much better user experience after its redesign, making it more elegant and more intuitive. All the functions you'll need is on your dashboard and you can learn to navigate pretty easily.
Customer Support  ★★★✩✩
There's only support center on Italki. If you can't solve your problems by browsing the faq materials. You'll need to wait a long time before being contacted by email. 
Overall Verdict ★★★★✩
Great interface, good teacher quality and active community makes iTalki a great choice to get a Chinese tutor and start your language learning journey. However, slow customer support and little discount are a few of its downsides.
4. Mandarin Tutor – Chinese Tutor Online
Mandarin Tutor is specifically designed for Chinese language learners. It provides online Chinese classes via Skype. 
The normal lesson is 50 minutes long and if you really like their services, you can also book free trial lessons (25 minutes). You can book lesson packages of 1, 5, 10, 20. The more lessons you book at a time, the more discount you will get. It is worth mentioning that their website also offers some Chinese learning resources. The only drawback is that they have less Chinese tutors than the other websites we mentioned above. 
Pros
Specifically targets Chinese students and teachers 
Big discounts when you book a whole lesson package
5. My Chinese tutor – Chinese tutoring
My Chinese tutor is a teaching team based in Beijing, the capital of China. But don't worry, all the tutors can speak at least two languages (English and Chinese). So if you are interested in their service, go fill in your personal information and book the free lesson. You will be contacted in a short time. 
Their general lesson lasts half an hour. On the website, you can see short introduction of the tutors. Usually the lessons are taught via Skype. 
Pros
Many professional native Chinese tutors based in Bejing
English-friendly website
In-preson Chinese Tutors
1.  Heytutor –  In-home Chinese Tutors
Heytutor is a tutoring platform for learning a wide range of subjects (not only Chinese learning) and finding the right tutors. One of their main features is that you can locate yourself by your ZIP code and find Chinese tutor near your location.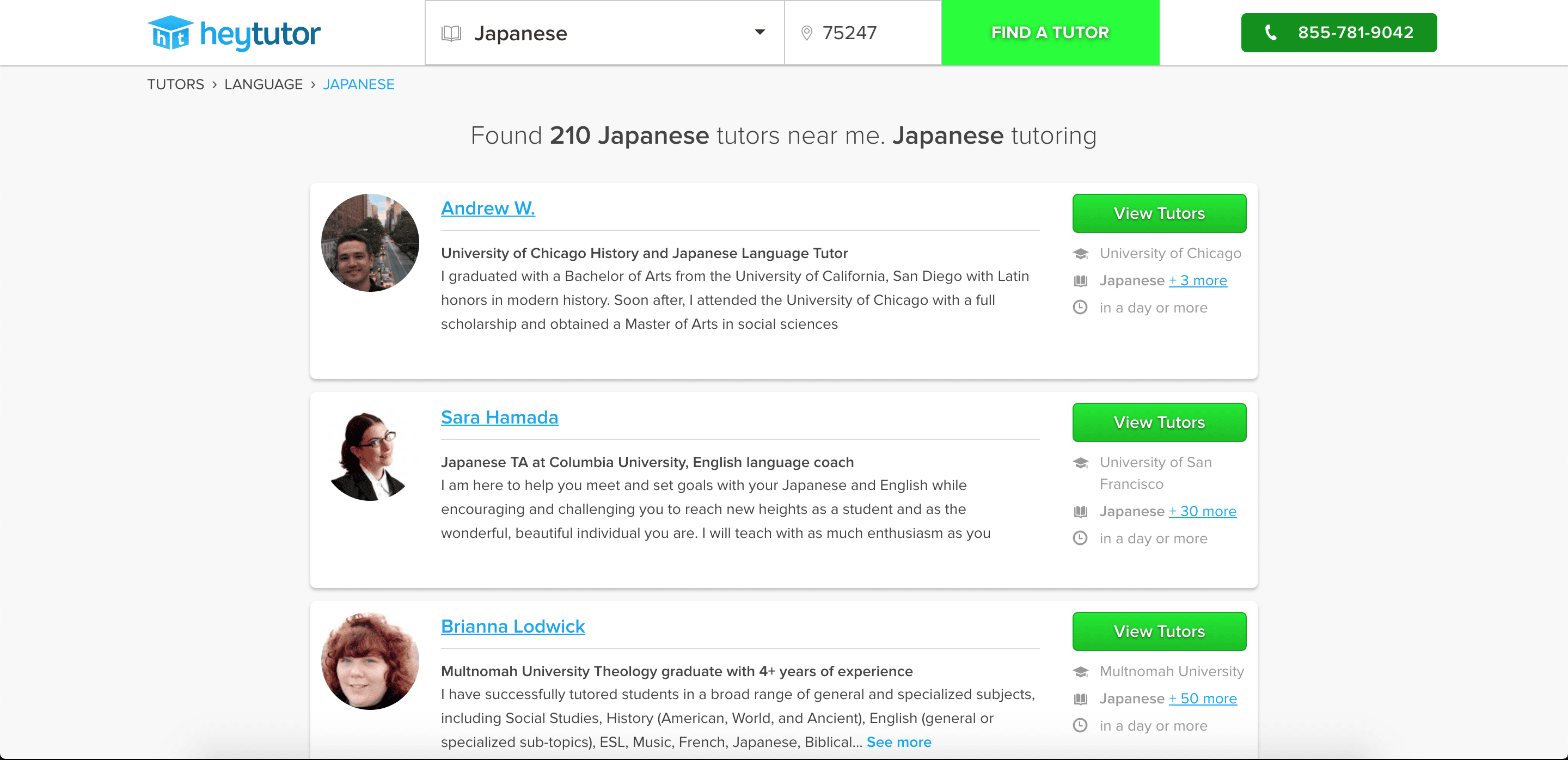 The process is simple, you will be asked to type in your name, telephone number, email, personal information and specific need or qualification of the tutors. A representative will contact you after they receive your information to discuss your needs. 
Pros:
Representative will help match the suitable tutor for you and save your time
Easily locate the nearest tutor from you
Cons
Tutors' information is not transparent. The only thing you know is the number of Chinese tutors they provide right now.
2. Care.com –  Chinese Tutors Near Me
Care.com starts as a website for finding after-school babysitters, nannies or senior carer. But nowadays they also provide Chinese tutors. You can see the tutor's teaching experiences, years teaching, their age and their profile picture.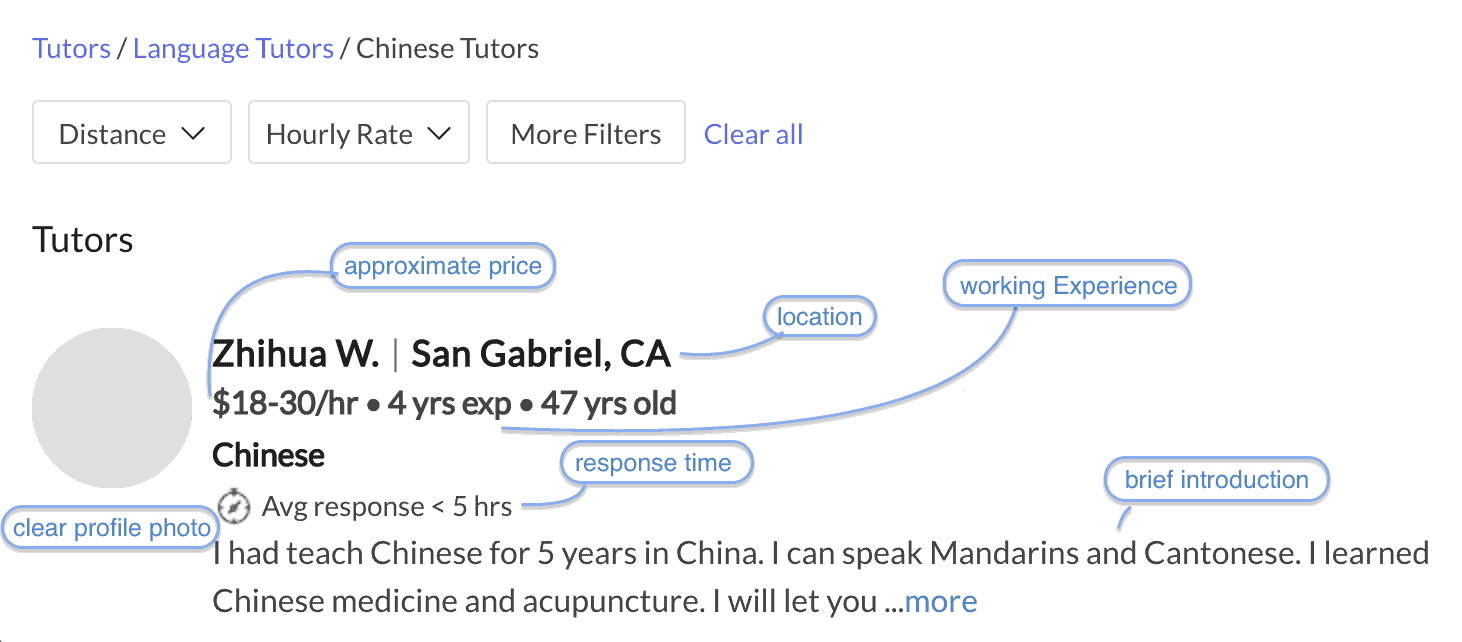 Care.com charges a higher rate than the other websites we mentioned before. On Care.com, the price for Chinese tutoring ranges from $15-40 per hour. The most important thing you should note is that the website only shows the general "range " of the price per hour, which means you have to negotiate the final price with the tutor. 
Pros
Tutors usually have a big range of expertise 
Tutors usually have at least two years of experiences 
Cons
Need to ask tutor for the real price rates
3. Thumbtack- Find the Best Chinese Tutor
Thumbtack aims to match local professionals with learners. Much like Care.com, you can also locate yourself to find the nearest tutor. You can see the number of times they are hired on Thumbtack. However, that doesn't mean how many times they have completed a Chinese session as they might provide other service as well. It also shows you the "estimated price", so you don't really know the final price until you two ( a student and a tutor) successfully matches.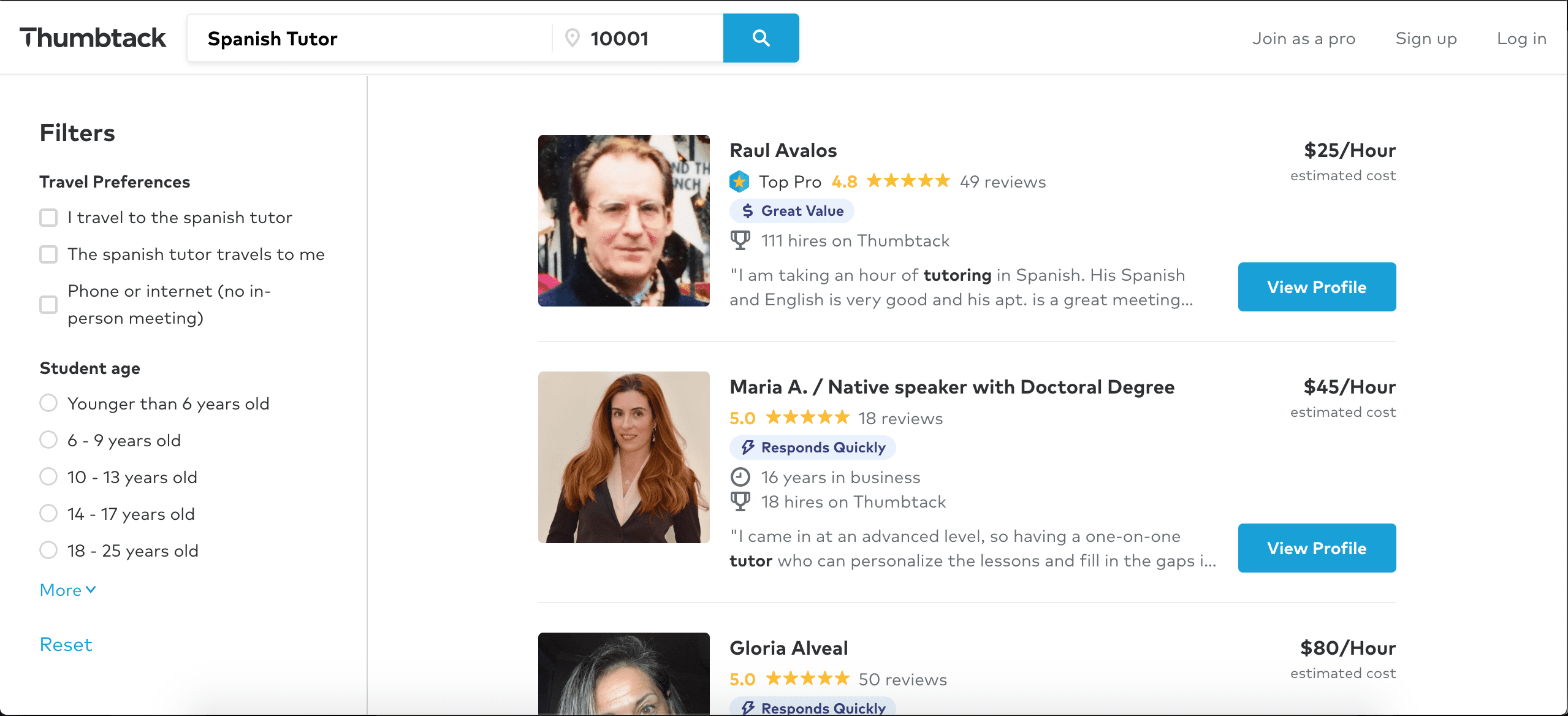 As for price, you might be a little disappointed since their price is higher than the other websites.
Pros
Easily locate yourself and find the nearest tutor
Provides both remote classes and in-home classes
Cons
You can only see the estimated price and have to ask the tutor to get the final price  
Much more costly than other tutor platforms
4. Wyzant – Chinese teacher online
Wyzant is a tutoring platform which offers online and in-home tutoring. Usually in-person tutors charge a higher price than online tutors. Take Chinese tutoring for example, the price for Online Chinese tutors & teachers for private lessons ranges from $15-$30 per hour. It can be way higher ($40-60) if you choose an in-person Chinese tutoring. To use Wyzant properly, you need simply choose your available time and you will get a list of all suitable tutors.  You can see how many hours they have completed as well as their ratings.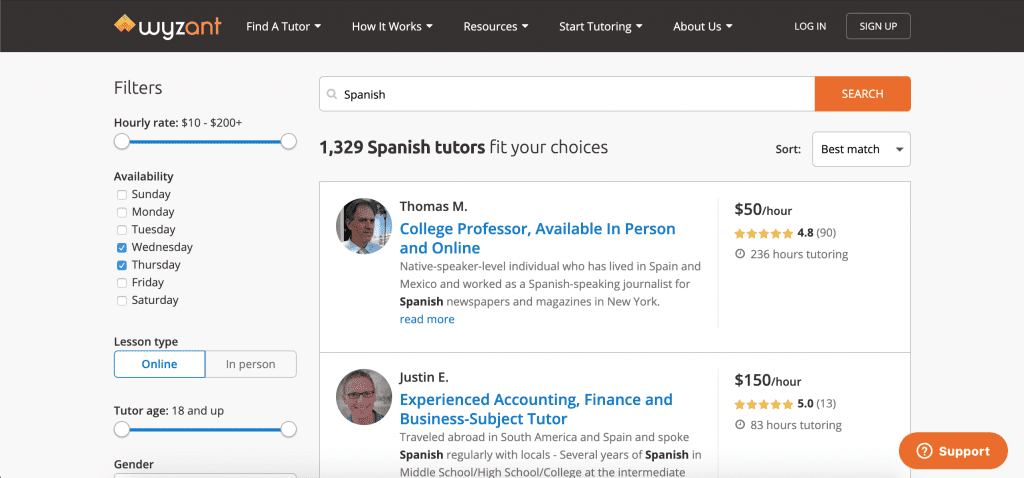 Pros:
Choose both online and in-person tutors on the same website
Find the suitable tutors that fits your schedule easily
5. Varsity Tutors – Chinese Tutors
Varsity tutors mostly recruit their teachers from Harvard, Yale, Princeton, and Stanford University. They also provide private in-home or online Chinese tutors in one-on-one settings. You can simply fill in your personal information, phone number and email address and an educational consultant will contact you. Based on your need, you are sure to find the most suitable tutor to hire. All the details (price, the tutor's personal profile) will be given to you on the phone.   
Pros:
High-quality lessons taught by student with high academic degrees
Now that you know where to start looking for a great Chinese tutor. Why not relax and listen to a famous song from Taiwan and learn Chinese by singing along with the lyrics?   
Take Language Classes for Free
If you want to learn more languages and not just Chinese, then we recommend you to look at some other Asian languages since they are deeply affected by Chinese with a lot of similarities. 
Japanese: 
Master Japanese with 40+ Free Online Japanese Lessons & Resources
Learn Japanese – 6 Excellent Online Japanese Classes

Korean: 
Daebak! 30+ Online Korean Classes & Resources – Any Budget or Level
10 Best Websites for Finding a Korean Tutor
If you like this post and find it helpful, please share it with your friends! It would be a huge support for us.

And if you would like to share your favorite secret Chinese learning resources, please feel free to leave a comment down below.

Let's make learning Chinese fun and easy!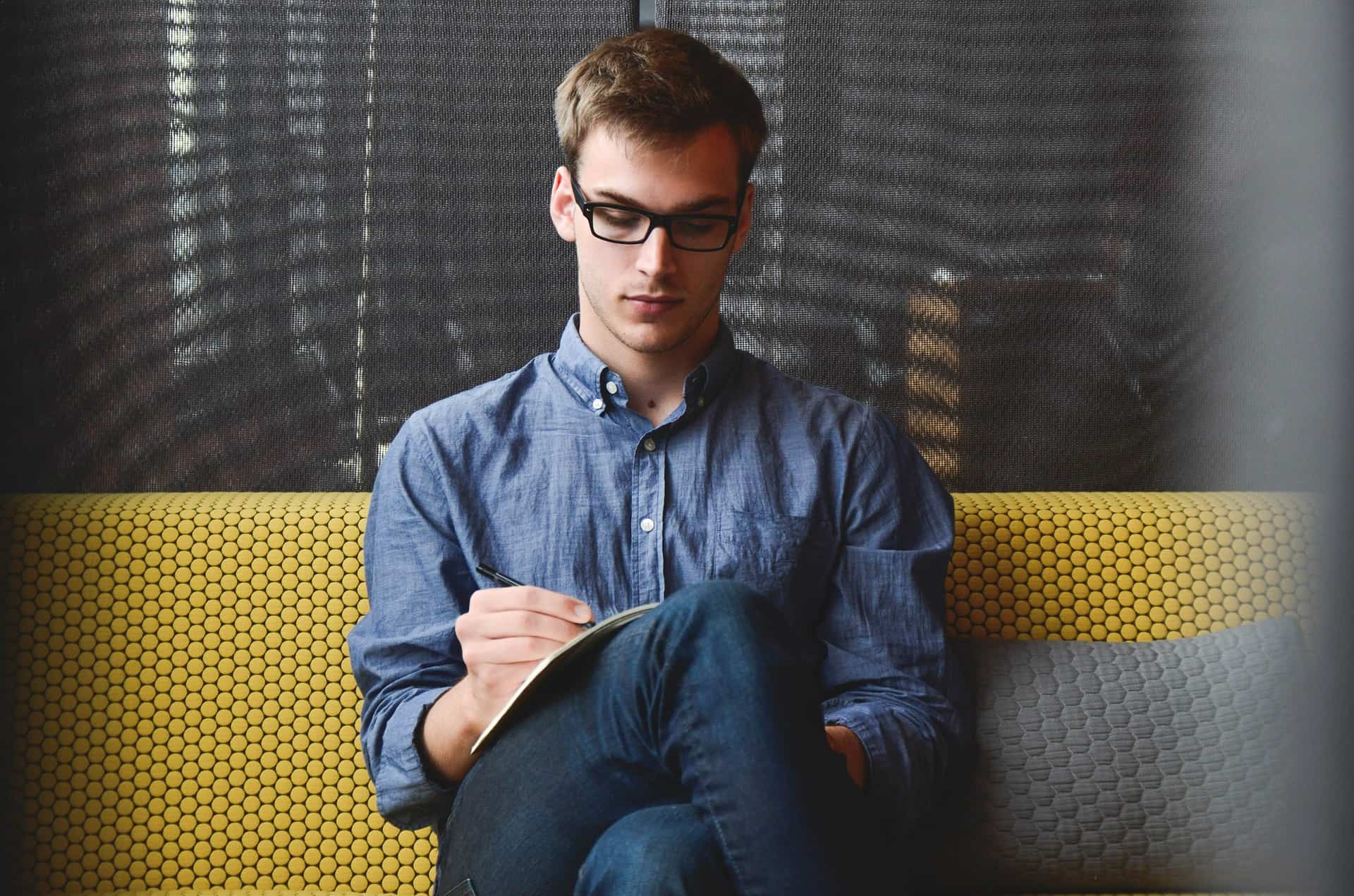 Ryan Y.
I am a Polyglot and can speak over 5 languages. I'm now still trying to master more languages. Deeply addicted to travel and have been to over 25 countries.