As K-pop culture blows to the western world, more and more people are intrigued by the fascinating country and its unique cultures. Some are even trying to learn Korean to gain a deeper insight of the nation and first-hand news of top Korean idols.
People are also learning Korean to appreciate its captivating culture. No matter what reasons you have for learning Korean, you can always make good use of all the free resources online to enhance your Korean!
In this article, you will find a complete list of some of the most useful online Korean classes and resources that work perfectly for either beginners or advanced learners. 
Korean Classes – Online Korean Courses
If you are just starting to learn Korean, you must have heard about TTMIK. If you are already an advanced learner, you must have learned from to TTMIK once. TTMIK is a Seoul-based Korean team providing online Korean lessons for Korean learners. They have a wide range of free classes and paid products for beginner to advanced level, including online audio and video courses, text books, Youtube channels and podcasts. Reviews of TTMIK are mostly positive online, and it's probably one of the most well-known Korean learning resources among Korean learners!   
This is an online Korean course offered by Yonsei University, a prestigious university in Korean. From this 14 hour online course, beginners get to learn the basic skills such as expressions, conversations and vocabularies for interacting and communicating with Koreans. The estimated time spent to complete the whole course is 6 weeks. Once you finished the whole course, you can get a certificate to prove your proficiency. 
This is also an online Korean course from Yonsei University taught by a Korean professor from the department of Korean Language Education as a foreign Language. In this course, you will learn the elementary knowledge of Korean in terms of reading, writing, listening and speaking. It takes about 12 hours (5 weeks as suggested) to complete the whole course. 
This is a websites containing a bunch of Korean learning lessons and they are totally FREE. It specially focuses at helping people speak Korean fluently. In each lesson, you will go through several grammar points with detailed explanations, vocabulary lists, useful sentences and audio lessons recorded by native Koreans. As long as you complete all the classes, you basically know 99.9% of the commonly used grammar in Korean conversation. 
CUK was established in 2001, the very first cyber university in Korea. Quick Korean is a free online Korean learning program opened to people from all over the world. The online courses are well-designed by Korean language scholars. The course contents include Korean language and culture at different levels. So far, there are nearly 200 countries registered for the courses.  
Korean Classes – YouTube Channels 
You get to learn Korean with a pretty Unnie (meaning "sister" in Korean) in this YouTube channel. It covers various topics regarding learning Korean alphabets, grammar structures, vocabularies and phrases commonly used in a daily basis through dramas and K-pop.
This video series was produced by KBS, a Korean TV channel. You can enjoy learning Korean in a very interesting way with Pit-A-Pat series, as they use Korean dramas and Kpop as the main resources for learning. In each video, a Korean teacher will explain the phrases and grammar used in the drama after the clips are played. Therefore, you will learn some useful sentences for daily conversation while enjoying watching the most popular dramas at the same time.  
It's a relatively serious  Korean learning YouTube channel, containing Korean classes for beginners and intermediate learners. It also offers lessons for the TOPIK test. You can take lessons with the recommended textbook for a better comprehension and pace for learning.
Billy is an American who self-learned Korean from 2005. He lived in Korea for a while and is able to speak fluent Korean. Since he learned Korean mostly by himself, he knows how Korean language learners suffer when facing some of the hardest parts of learning Korean. In his channel, you can find a learning series with downloadable PDF files that help you learn anywhere anytime.
This is the YouTube channel managed by KoreanClass101.com, an online Korean language learning website. There are audio and video lessons available in this channel. You can find playlists of certain categories, such as Korean listening, vocab, phrases and grammar, and Korean learning tips.
The channel is operated by several native Koreans. In their videos, you get to learn basic Korean alphabets, phrases and conversation tips. They provide some free learning files as well!  Videos about TOPIK tests are also available in this channel.  
Korean Classes – Online Korean Audio/Podcasts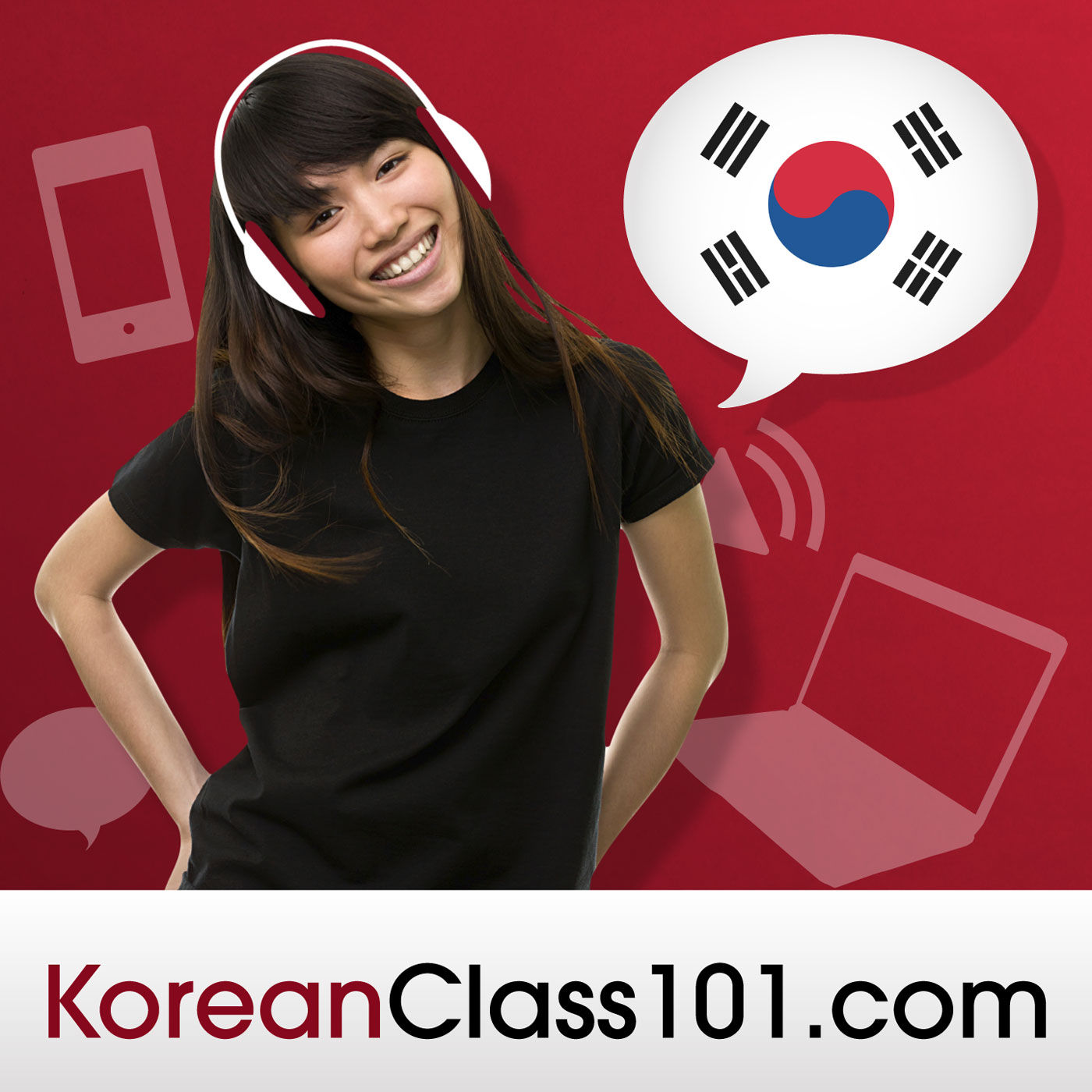 Want to learn Korean pressure-free? Then try Korean Class101 Podcasts! Each episode lasts no more than 5 minutes, and covers topics on Korean language and culture. New episodes are constantly renewed so no worries for interruption!
Produced by TTMIK. In this Podcasts, the 2 hosts Hyunwoo and Kyeong-eun from TTMIK bring you through the Korean grammar starting from level 1. You can play the audio with the accompanying textbooks, workbooks and e-books (paid).
It's a dated audio resources for Korean language learning but still earned good credits from online learners. The length of each episode is not long and it covers plenty of daily scenarios. For example, it teaches you how to greet people and communicate in a way people normally do in Korean. 
Launched by Language Superstar, which provides other types of language audio lessons on Spotify. There are 9 episodes of Korean lessons in total. The longest episode lasts over an hour, so you can separate it into several segments for better comprehension.  
Also an audio series produced by Talk to Me in Korean. It's perfect for people who want to speak natural Korean since this podcasts includes Korean conversation from real-life. You can choose the episodes you're interested in by checking the name of each episodes that refers to different scenarios. 
This Podcast consists of mini episodes that run for 5-6 minutes each. You will learn things about the Korean language and cultural differences. If you have any question regarding to Korean, feel free to contact the producer via email.  
Talk To Me in Korean has several podcasts on different topics and IYAGI is one of them. From this podcast, you are able to improve your Korean listening skills and enhance your vocabulary from natural conversations between native Korean speakers.  
It's a language learning podcast focusing on English and Korean with a high rating of 4.9/5 on Podcasts. There are two language versions of each episode, which means that you can train your Korean listening comprehension by checking the English version after the Korean one. Some reviewers mentioned that the content of each episode is insightful, fun and relatable. It's overall highly recommended by the audiences.
Online Korean English Dictionary
The dictionary is the most widely used Korean dictionary online and is available on both its website and app. It is created by NAVER.COM, the most popular search portal service in Korea. It provides grammar tips, origin words, derivatives and applications of each word. You can input the word by handwriting, voice recognition, and texts.       
Another popular Korean dictionary that is easier to use with its simple interface.
Learn Korean with Apps
It's a language learning app available on desktop and mobile devices in Google Play and Apple Store. One special thing about this app is that it's specially designed for learning Asian languages. There are multiple lessons from basic to advance levels. Each lesson includes listening, word matching, typing and quizzes. Though being a paid app, it's worth the price. 
Similar to LingoDeer, a popular language learning app. You can either take a placement test to begin with your current level or start from scratch. In each lesson you have only a few chances for choosing the wrong answers, so you have to be careful to not "lose the game". 
 It's a language learning app where you can learn languages by talking with people form all around the world who speak the language you want to learn. You need to put in your native language and the one you want to learn when you first sign up for an account. 
This app features in its minimalist illustration and 5 minute session limit per day. It's a vocabulary-based learning app that focuses only on curated words that are in practical use.
You get to practice basic communications in Korean from this online course. Each week, you will receive the material for the course. You can set your own learning pace and retain the knowledge of Korean language that you only need to know by applying the 80/20 method suggested in the course.    
Other Korean Learning Resources
A language learning tool that includes lots of listening and speaking for you to sharpen both of the skills. You can also learn Korean with locals that can help you improve your real Korean skills. 
A useful flashcard tool for you to create your own or find others' flashcards to memorize Korean vocabularies.
Also a flashcard system that helps you save time studying Korean and makes your learning more efficient. Its flashcards support images, audio, videos and markup, so that you can memorize things through creative ways. 
This Facebook fanpage serves as a nice Korean reading material for its daily post containing both English and Korean language. You can test your Korean reading comprehension by blocking the English version and learn some interesting news and facts about Korea at the same time!  
Note: If you like this post and find it helpful, please share it with friends! It would be a huge support for us.

And if you would like to share your favorite secret Korean learning resources, please feel free to leave a comment down below.

Let's make learning Korean fun and easy!