Why learn Spanish online?

There are various benefits of learning Spanish online instead of traditionally. The most apparent benefit is that the classes are individualized, the tutors are personal which means you'll have an optimized learning environment. The lessons that are taught are accessible regardless of your location as long as you have access to technology such as laptops or phones. The ability to schedule lessons around your calendar allows you to live your life as well as learn another language with an online Spanish tutor!
Having the opportunity of choosing from a variety of online Spanish tutors allows finding a teacher that fits your criteria! It's even possible to learn from native speakers who also speak your language, this would be able to generally make you more fluent in conversation.
What is the general pricing of online Spanish tutors?

The rate of tutors is set depending on their reviews, teaching skills, enrolled students, number of lessons given, and fluency. Online Spanish tutors usually average at a cost of $30 per hour but can range from $5 to $60 per hour. For tutors that set their own rates, they attempt to price their lessons according to what they can provide to the students. Despite this, the pricing of lessons will always strictly depend on the platform you utilize.
Different platforms have different rates for their tutors, but the most enticing factor of learning Spanish online is the opportunity of trial lessons. Most language platforms now provide "trial" lessons with tutors of languages. Trial lessons are usually 30-minute lessons to introduce you to the tutor, how lessons with that tutor would function, and how the language platform itself functions.
Best language platforms for finding online Spanish tutors

1. AmazingTalker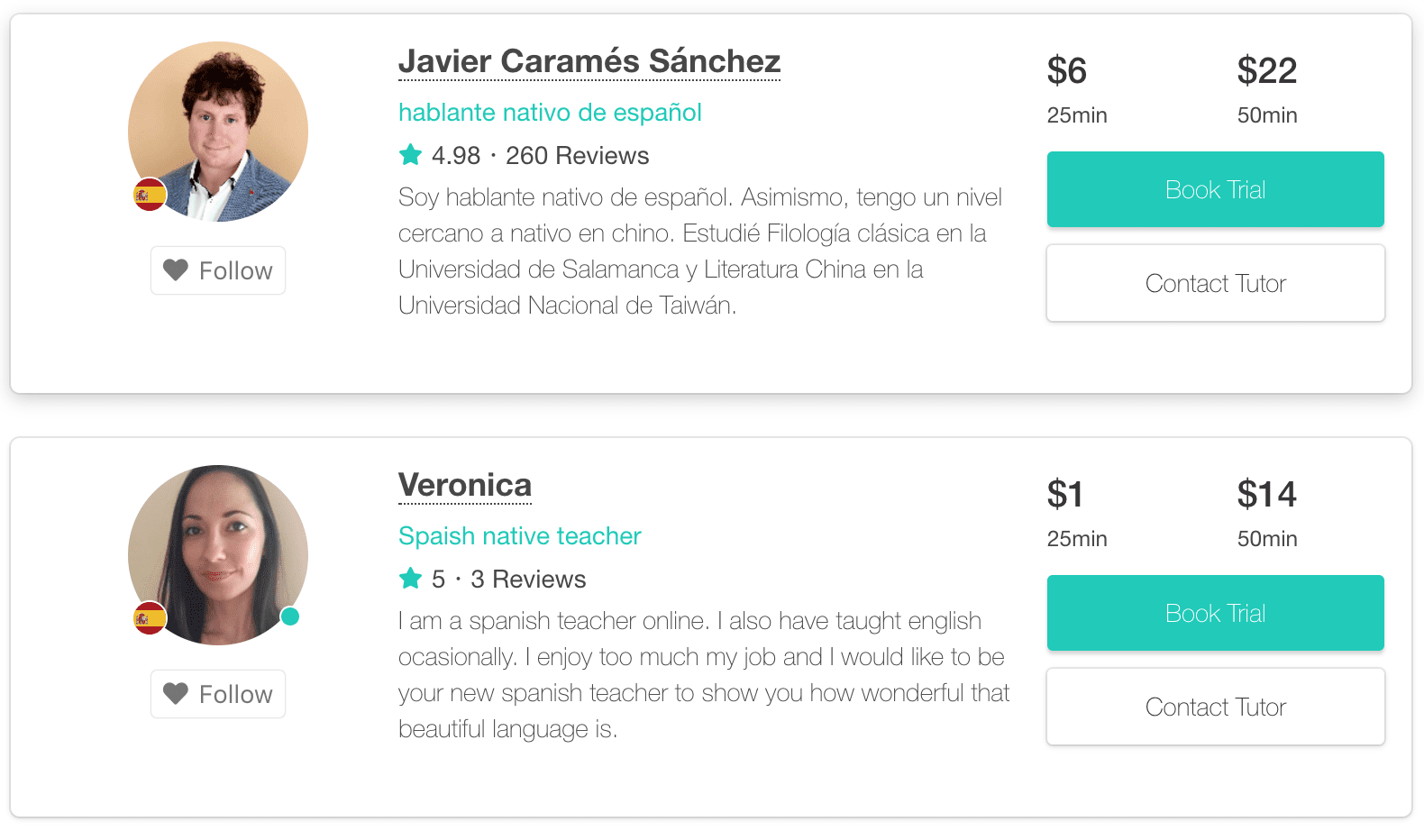 About AmazingTalker: Only founded in 2016 in Taiwan, AmazingTalker is relatively new to the competitive language learning market. However, it has had rapid growth for the previous few years thanks to its website containing high-quality teachers, a rigorous review system and an AI recommendation function that accommodates the user. It currently boasts over 1,000 tutors and has helped teach more than 80,000 students. It works similarly to Preply and italki in several ways but has to some extent succeeded and surpassed them both in fields they falter.
User Interface: When first approaching AmazingTalker, I was first struck by their matching system, amount of filters and the filter process, and their ease of use. What really appeared to me that stood out was the quality of the teachers. AmazingTalker reviews every teacher application themselves to guarantee the quality of tutors and they ensure only a small percentage pass the screening. The end result of this process is a teaching community that upholds high standards and impressive learning results.
Price of AmazingTalker: Average cost of $14 a lesson
Information provided: AmazingTalker has each tutor accompanied by a short introduction video and calendar where you have a general idea of how they teach, accent, times available and what you can learn during a lesson. The tutor's video also provides information about their course in multiple languages to accommodate students. The content shown on the tutor's box is where the tutors are from, numbers of lessons, students taught, response, attendance rate and type of lessons being offered. Italki also offers a mobile app so it's learning experience is seamless.
Overall Review: AmazingTalker has thoroughly analyzed how they could become the most successful language platform while simultaneously providing a fantastic user experience and a great learning environment with and guidance to your perfect online Spanish tutor. The information provided, easy pairing process, and competitive pricing AmazingTalker is one step above.
2. Italki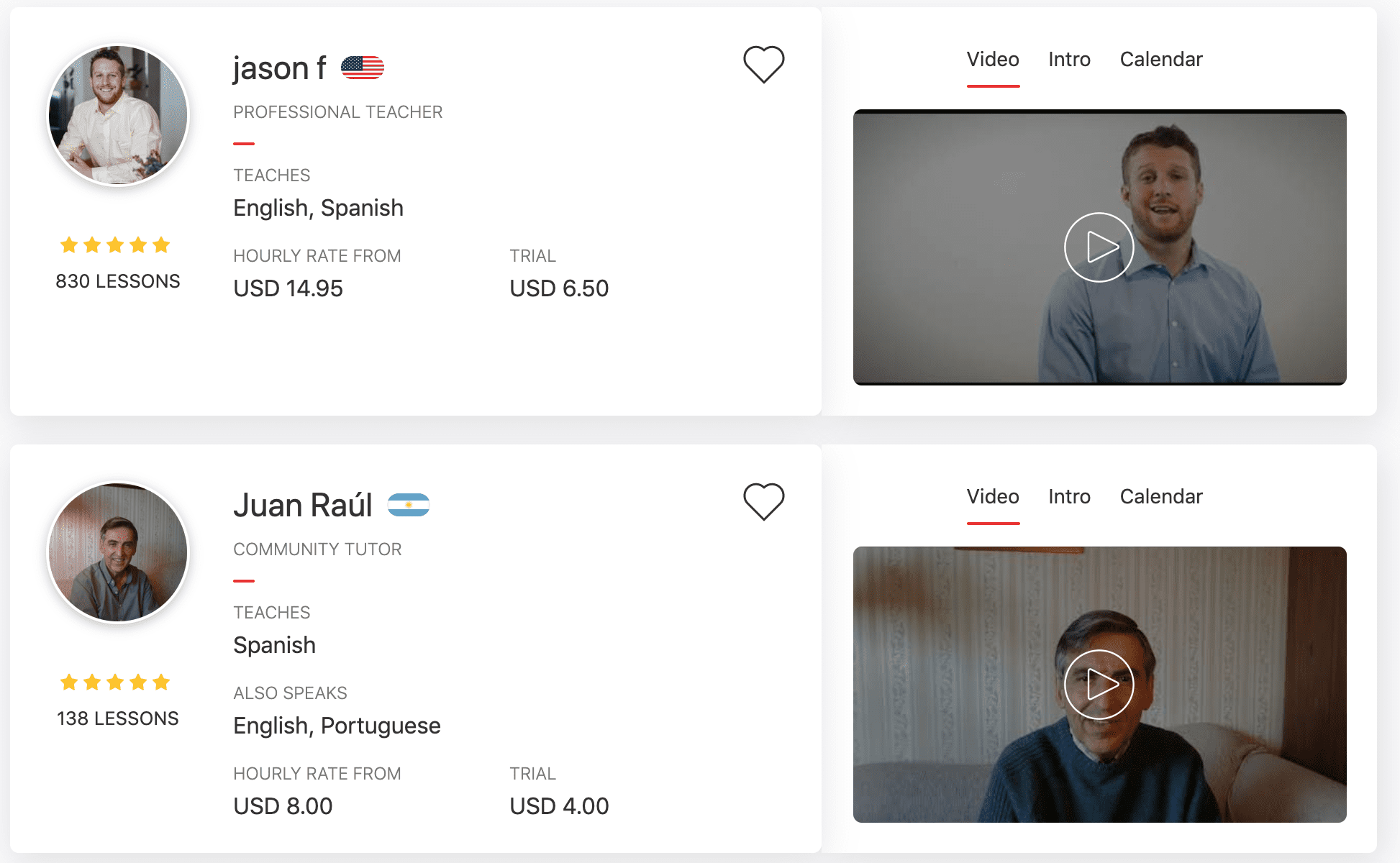 About Italki: italki is a global language learning community that connects students and teachers for 1-on-1 online language lessons. At italki, they believe that human interaction and cultural sharing are the best way to become fluent in a foreign language. With over 5 million students and 10,000 high-quality teachers teaching more than 130 languages, italki helps everyone with their personal journey to fluency.
User Interface: I was personally impressed by the clean, interactive, and intuitive interface design that italki provides and the clear instructions given. The beauty of their user interface lies in their search function which includes niche filters such as price, availability, teacher type, native speaker and where the tutor is from.
Price of Italki: Cost between $5 to $20 per lesson
Information provided: Italki has each tutor accompanied by a short introduction video where you have a first look at their teaching method, accent and what you can learn during a lesson. The tutor's page provides information such as numbers of lessons, students taught, response, attendance rate and type of lessons being offered. Italki also offers a mobile app so it's learning experience is seamless.
Overall Review: Italki's design is rarely surpassed and it's site ensures a comfortable user experience. Very simple to use and navigate as well as being informational. Interesting community feature. Large amounts of tutors allow for more options when looking for a teacher, Prices are competitive and tutors are well-shown.
3. Preply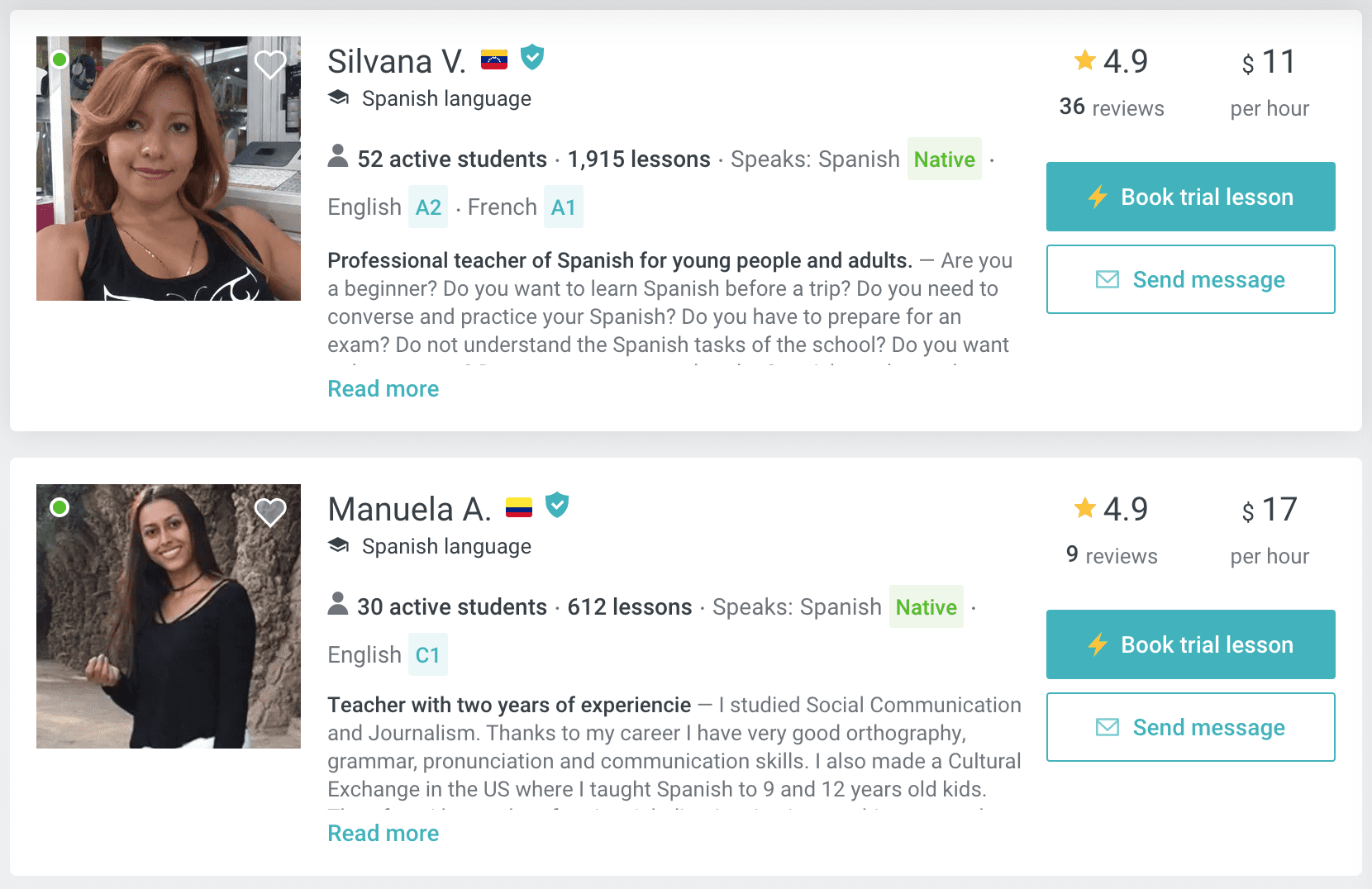 About Preply: Preply was first launched in 2012 in Brighton, Massachusetts and is currently one of the largest online tutoring websites globally. It has approximately 47,000 registered tutors, offering help in as many as 27 different languages. While Preply primarily has a focus on language learning, it also offers courses and tutoring in subjects such as coding, accounting, and design. It contains a similar approach to other language platforms with the offering of trial lessons as well as the pay per lesson feature.
User Interface: Preply offers drop-down bars to provide more refined filters when looking for a Spanish tutor so that results are more curated towards your needs. The calendar of each tutor is easy to see, booking a trial lesson is quick, and you even have the option of messaging the tutor themselves.
Price of Preply: Average price of $5 to $25 per lesson
Information Provided: Preply shines in terms of information. Each tutor's page includes information about themselves and past experiences as well as a student attesting to their knowledge and lessons. Showing active students and how many lessons a tutor has taught allows for you to have a general idea of how effective they are in teaching. Videos are short but contain sufficient information.
Overall Review: Preply shines in information but the amount of information can sometimes overwhelm you when looking for instructors. Their user interface is easily usable and their pricing is straight to the point. Preply is transparent with their tutors. which makes it easier for potential students to choose.
Finding the Perfect Online Spanish Tutor for You
While some language platforms, such as AmazingTalker, make it simple to find the Spanish teacher that matches you best, other sites may not. Despite this fact, it's important that you find a Spanish teacher that fits you best. Be sure you read each tutor's introductions, accompanying videos, and previous reviews. Doing this will give you a general grasp of their experience and teaching styles.
When selecting a tutor, make sure that your calendar aligns with theirs. This will allow you to work with the tutor on a consistent schedule, effectively making learning Spanish a routine. These language platforms provide a large amount of information on each tutor with the goal in mind of finding a tutor right for you. With so many options given to you, it's necessary you analyze and decide which tutor will help you succeed the most.
How to make the most out of online Spanish lessons
When allocating both time and money towards online Spanish lessons, you must make the most out of the lessons you get. Be sure to take advantage of all that's offered to you with your online lessons. Take advantage of the fact that these lessons are personal and utilize 1-on-1 conversations to increase grammar and conversational skills. Don't be afraid to ask your tutor questions, they're there for you to succeed and thrive concerning the language you're learning.
With online Spanish lessons, you control and curate the content of your lessons. Make sure you plan lessons with your online Spanish tutor, that way you can focus on the material that applies and appeals to you. You're personally investing your time and money into online lessons so be sure you also have time in your schedule for studying. It's important to plan for revising and studying accordingly, that way you can be sure you're learning wisely.
Frequently Asked Questions when looking for online Spanish Tutors
Q: How much is an online Spanish tutor?
A: The price and rates of online Spanish tutors vary by language platform but the price of the tutor usually reflects their teaching ability. Prices could range from $5 to $30 per lesson.
Q: What is the quickest way to learn Spanish?
A: The quickest way to learn Spanish is through conversation and immersion. These language platforms offer tutors that will not only teach you Spanish but will teach you to have to become proficient and fluent in the language itself.
Q: How long does it take to learn Spanish?
A: It depends on how many lessons you plan, how often you study and practice, and how much you use it in conversation. It's important to work with your tutor and set goals for achieving fluency in the Spanish language.
Q: Is Spanish hard to learn?
A: Spanish could very easily be considered one of the hardest languages to learn. Due to that fact, language platforms have maintained experienced and native tutors to help you succeed in the Spanish language. Learning Spanish online has made it easier to learn the language itself.
Q: What are other ways I can learn Spanish?
A: Mobile applications can fit your learning requirements at different stages of Spanish learning and are both simple and effective to use. We've compiled a list of Spanish Apps to help guide your learning experience!
---
If you thought this post was helpful to you, please be sure to share it with your friends! It would support us and allow us to continue to make articles!
If you would like to share how you personally learned Spanish, please don't hesitate to leave a comment down below.